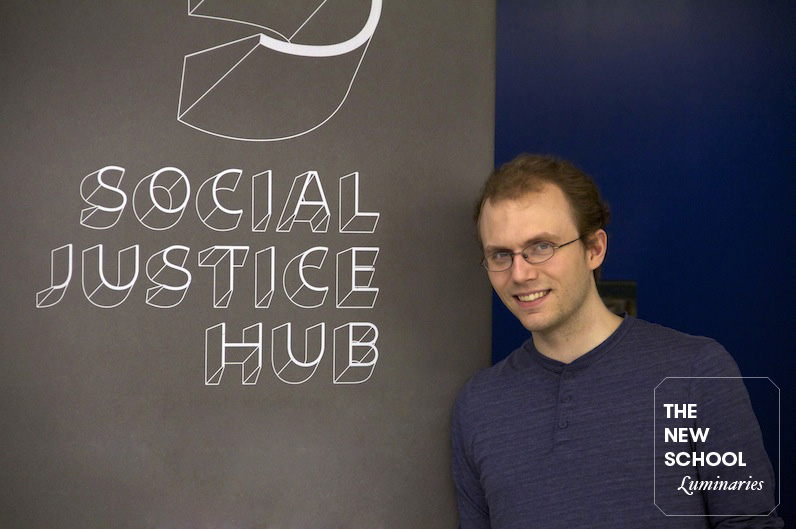 Empowering Storytellers Who Need to Be Heard: Q&A with Colin DeMatteis, Engage Media Lab
Like many New School students, Colin DeMatteis is finding practical ways to implement his passions every day. He works with the Engage Media Lab (EML), which pairs School of Media Studies students interested in participatory learning with community organizations throughout the city. This year, they've teamed up with the Brooklyn-based Arab American Family Support Center (AAFSC) to help teens tell their stories. The New School New_S caught up with DeMatteis to find out about the partnership and their current campaign on crowd funding engine Indiegogo.
New_S: How did you get involved with the EML?
Colin DeMatteis: I think there's a highly toxic attitude in mainstream media with regards to representatio­n within media and who gets to make media. I'm fed up with the tokenism of non-white, non-cis [a cis-gendered person identifies with the gender they were assigned at birth], non-male characters and the deification of media "artists" and their "vision." I'm focusing my curriculum around community-based media education and grassroots maker culture. I took two classes with EML Faculty Adviser, Nitin Sawhney, who asked me to join the partnership with the AAFSC.
New_S: What were your goals in working with the AAFSC?
CDM: We proposed using participatory media education as a way to explore the lives and experiences of teens. We wanted to give these young men and women the technical skills to create their own media and to understand that their stories are valid, interesting, and important. [This] "final project" is the last step in the curriculum for the spring. They work in small groups to create short films. Our goal is that each group member feels competent in the filmmaking process.
New_S: What surprised you about working with the AAFSC kids? 
CDM: [DeMatteis works with the boys group.] I'd forgotten how dangerous it is to be emotionally open as a teenaged boy. It has been a challenge to ask the boys to speak to their experience or feelings. Their first response is usually to avoid showing vulnerability. The center staff has been great at working with us to get the boys to discuss these topics and we're hoping to see some of that openness in their final videos.
New_S: One of the boys in the Indiegogo video jokes about being a BBC reporter. To your knowledge, do any of the kids have media career aspirations?
CDM: The boys I've worked with are mostly concerned with working in their community and their families. Only a few of them have mentioned pursuing college degrees. Those that have thought about college are usually interested in hard sciences – engineering, chemistry, etc. – or going into medicine. Unfortunately, I can't speak for the girls group.
New_S: How will the Indiegogo funds be used?
CDM: We will be returning to continue this project and refine our process in the fall. Most of the funds for the Indiegogo project will go towards equipment for that session.
The AAFSC student films will screen on Saturday, May 17 at 3pm at the Helen Mills Theater. The screening is open to the public and admission is free with a suggested $5 donation at the door. Or, simply donate to the Indiegogo campaign, which ends at 11:59 p.m. on May 16.