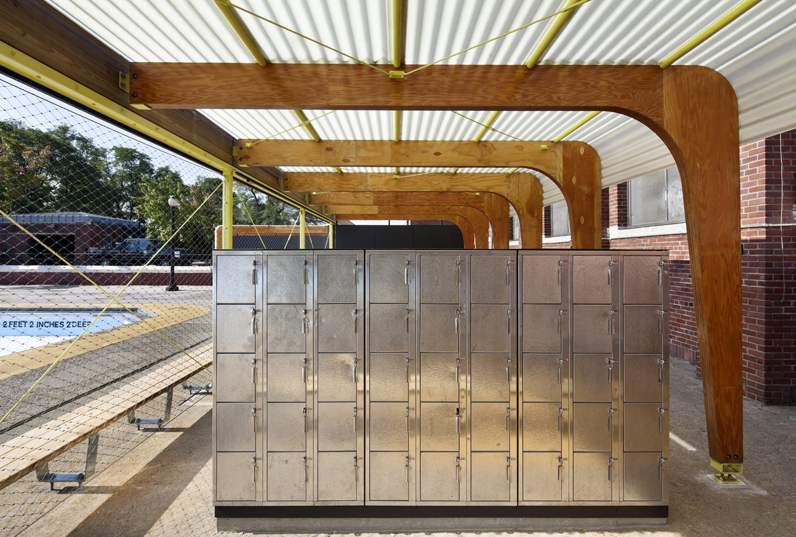 Highbridge Recreation Center Unveiled
On Monday, May 5, The Design Workshop at Parsons The New School for Design and NYC Parks proudly announced the completion of Highbridge Recreation Center renovations. The completion of three years of work at the site by the Design Workshop, the nation's only urban design-build architecture workshop, comes just in time for summer. Several city officials and community members attended Monday's dedication ceremony, as well as United States Representative Charles Rangel.
The Washington Heights community will be able to cool off at The Highbridge Pool and use its new locker rooms, lobby area and other sustainable interior design features, all designed by students at Parsons' School of Constructed Environments.
Situated along the Harlem River, The Highbridge Pool and Recreation Center were built in 1936 along with 11 other very similar facilities under the auspices of the Depression-era Works Progress Administration. Many of these facilities, now close to 80 years old, are seriously in need of modifications to bring them up to date. At Highbridge, Parsons students designed a computer room, as well as brainstormed strategies for minimizing the energy wasted heating and cooling of the cavernous concrete edifice. As it turned out, the simplest way to do this was to make sure the building was in use year-round, something previously impossible.
In addition to adhering to a strict budget, sustainable design was at the forefront of meeting the recreation center's needs. Existing lockers were refurbished and Parsons' architecture students designed benches crafted from recycled wood. In an effort to limit energy needs, there is an enclosed breezeway and just one boiler providing heat to all interior spaces.
The Highbridge renovations may be complete, but work from the Parsons' Design Workshop is far from over. The Design Workshop recently announced a new project in collaboration with another WPA-era pool, in Brooklyn's Sunset Park neighborhood. Both projects "exemplify Parsons' commitment to design-led civic engagement," says Executive Dean Joel Towers, and "gives students the opportunity to create works that have a lasting impact on urban built environments and the communities they serve."
Photos of the Highbridge Pool and Recreation center transformation can be found here via Dwell. For more information on the Monday's dedication ceremony, check out the feature from Treehugger.