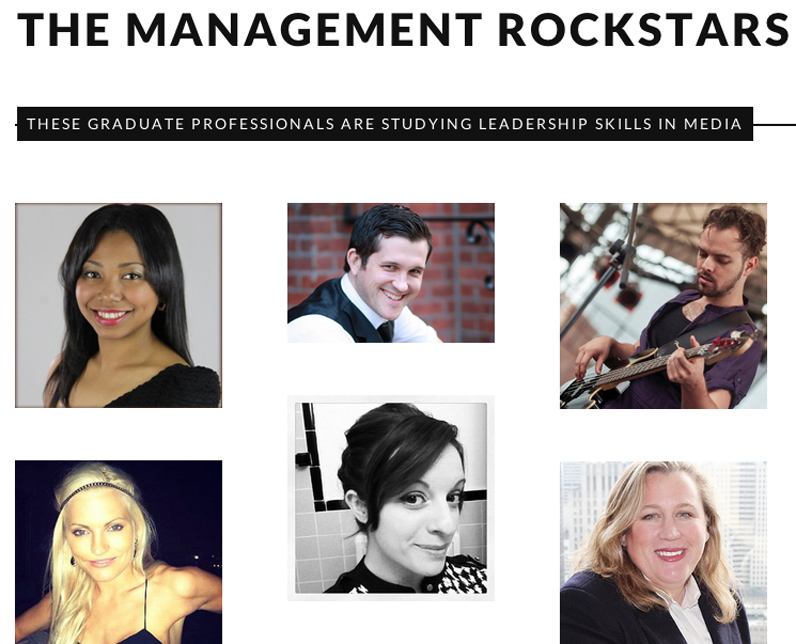 Meet the 'Media Management Rockstars'
Today's cultural climate necessitates the constant evolution of media. Looking to produce a new generation of leaders fit to tackle the industry's need for constant innovation and change is The New School's relatively new Master's program in Media Management.
Still in its early years, the Media Management program marries managerial business acumen with critical analysis of the media industry and its products, all while preparing students for success and leadership in the creative economy. Flexible, interdisciplinary and future-oriented, the Media Management curriculum provides students with indispensible hands-on experience in producing, media economics and finance, marketing, distribution, and ethics.
Garland Days is a member of the program's 4th cohort graduating this May. With a background in theater marketing, Days initially started as a student in the Media Studies program at The New School for Public Engagement.
"The great opportunity to combine leadership skills, media theory and practice," explains Days, is what eventually led him to join the MS in Media Management program.
'Media Management Rockstars' is just one of the many projects Days completed during his tenure in the program. A series of nine web profiles showcasing talented students from the program, this project seeks to "accentuate the unique challenges and future aspirations of Media Management students," says Days. Not only is 'Media Management Rockstars' bringing positive attention to the work coming out of the Media Management program within The New School community, its sharable content via social media platforms has the potential to reach prospective students and their parents.
"Increasing the visibility of the work coming out of the program is fundamental to increasing enrollment and the program's overall growth," says Days.
Learn more about the Media Management program here.
Graduation is just around the corner! Find more information about The New School's 78th commencement at www.newschool.edu/commencement/.