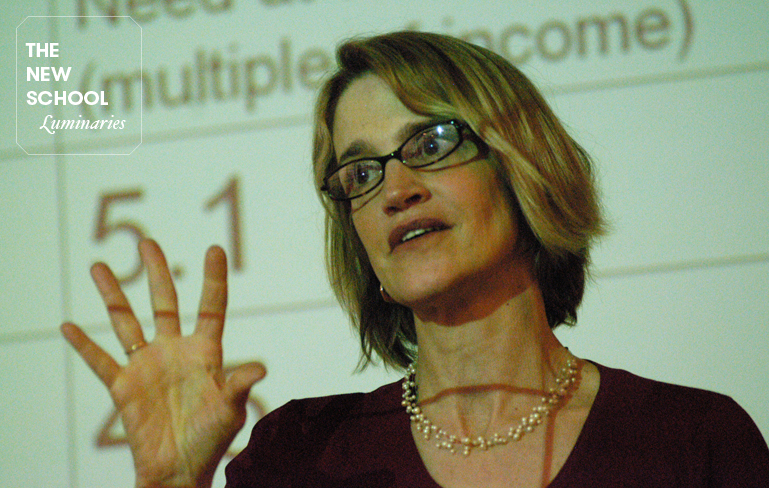 Teresa Ghilarducci: Social Security and NYC's Retirement Crisis
The number of Americans reaching retirement age is surging, and yet very few are equipped with a retirement plan. For years, Teresa Ghilarducci, Economics department chair at The New School for Social Research and director of the Schwartz Center for Economic Policy Analysis (SCEPA), has utilized her research to make a case against America's current retirement system and offer an alternative model. One of Ghilarducci's main arguments against the current system is that employers' emphasis on 401(k) plans shifts the burden of saving for retirement to their employees. Retirees are thus forced to rely more on social security, which continues to be a hot-button topic due to issues surrounding funding.
On May 21, in an effort to address looming concerns surrounding social security, the United States Senate Committee on Finance, Subcommittee on Social Security held a hearing entitled, "Strengthening Social Security to Meet the Needs of Tomorrow's Retirees." Along with other researchers and policy experts, such as Dr. Maya Rockmoore, president & CEO of the Center for Global Policy Solutions, Ghilarducci provided a witness testimony to the Senate panel hearing. Referring to the committee hearing as "a meaningful step towards secure retirement for most workers", Ghilarducci testified on problems with the current voluntary, individual directed, commercial based and highly subsidized system.
Ghilarducci's participation in the Senate panel hearing on social security comes just as consideration over adopting her solution to the current retirement system—creating a government-managed pooled pension fund for private-workers, is gaining traction across the country and here in New York City.
According to Ghilarducci's research, approximately 60 percent of workers in New York City do not have access to a pension or 401(k). This fact coupled with anticipated population trends makes for a "looming crisis," says Ghilarducci in a recent New York Times article discussing the city's retirement dilemma.
The New York Times article also highlights Ghilarducci and Democratic activist, Bill Samuel's proposal for New York City to implement the aforementioned pension fund model, that would cost taxpayers nothing as workers' contributions would cover the full administrative costs. Ghilarducci argues that 401(k) plans, compared to pension funds, put workers at a disadvantage due to its higher fees and lower rates of return.
California is already looking to open up state-managed pension funds to its private workers. On June 17, New York City Comptroller, Scott M. Stringer is expected to attend a meeting at The New School to further discuss the city's retirement issues and speak with California State Senator Kevin de Léon on how Ghilarducci's proposed model picked up steam in the Golden State.
Read the full New York Times article here. For more information on Teresa Ghilarducci's research and contributions, please visit her faculty page.