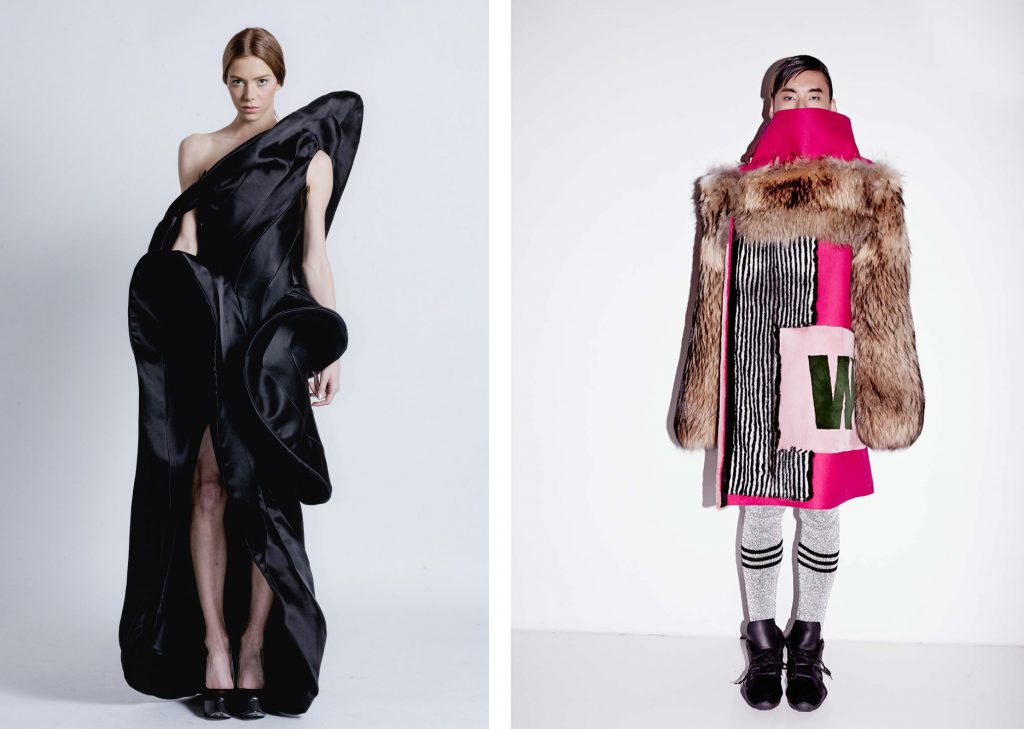 Empowering Imagination
On a recent afternoon, Simon Collins, dean of the School of Fashion at Parsons The New School for Design, stood in a mostly empty classroom inside the mostly deserted University Center (not only was it summer, but large parts of the UC were closed for construction). In the room with him were a half dozen fashion industry heavweights, including Style.com's Dirk Standen, Kering's Laurent Claquin, Tomas Maier, Sofia Sanchez Barrenechea, Saks Fifth Avenue's Colleen Sherin, and Paper Magazine's Editorial Director Mickey Boardman.
"These students should understand the back and forth of their collections," Collins said, in part. "Should we get going?"
Over the next hour, 14 students filed in to have their work judged as part of Parsons and Kering's third annual Empowering Imagination competition. Kering is one of the world's premiere luxury groups, overseeing brands like Gucci, Alexander McQueen, Saint Laurent, Stella McCartney, and more. The winner of the competition would get an internship with a Kering brand – past winners have gone to places like Gucci, Bottenga Veneta, and McQueen.  All finalists had their work featured on Style.com.
The students each presented one look on a model and several more on a rolling rack. The five categories on which they were being judged — creativity, craft, innovation, integrity, and vision – aren't bad descriptions of the qualities the perfect designer would show. Student participant In Seop Keum spoke about how his blazers were inspired by light and shadow. Ximon Lee told the panel how homeless Russian teenagers inspired his collection of boxy treated denim garments. Mijia Zhang, to the absolute delight of Paper's Boardman, introduced a pair of black tights with pink stripes and words around the ankles by saying, "Here's the item on everyone's wish list." All the participants wer anxious to explain their inspirations, their process, and their career goals in the few short minutes they had (each was cut off exactly at 5 minutes, leaving  2 for questions).
In the end, the panel named two winners and gave out one honorable mention. Winner Justin Chu's womens ready-to-wear designs featured voluminous silhouettes that combine elegant fabrics with structural forms. Winner Mijia Zhang was selected for her playful, boxy geometric shapes by combining classic fabrics with technical materials. The student designers will be awarded an internship at one of Kering's 22 luxury and sport & lifestyle brands and take part in a closed mentoring session with Style.com. Honorable Mention is being awarded to Ximon Lee for his menswear collection, Children of Leningradsky, is based upon a winter journey to Russia earlier this year." In Russia, I was captivated by the unintentional styles of street children near suburban Moscow."
"Now in its third year we are especially proud of our collaboration with Kering. said Simon Collins, Dean of Fashion at Parsons The New School. Not only do Parsons students get the chance to work at some of the world's best brands like Balenciaga, Bottega Veneta, YSL and Gucci, but also their work is shown on one of the world's most important sites Style.com, it's any fashion student's dream come true."
The full list of students who took part in the 2014 Empowering Imagination competition is below:
In Seop Keum
Tuyen Tran
Ximon Lee
Carlota Salvadores
Hyegin Hamm
Shin Young Jang
Youngji Cho
Justin  Chu
Moon Hwang
Wenqi Wu
Sarah Hoopes
Hye Won Jang
David Valencia
Mijia Zhang