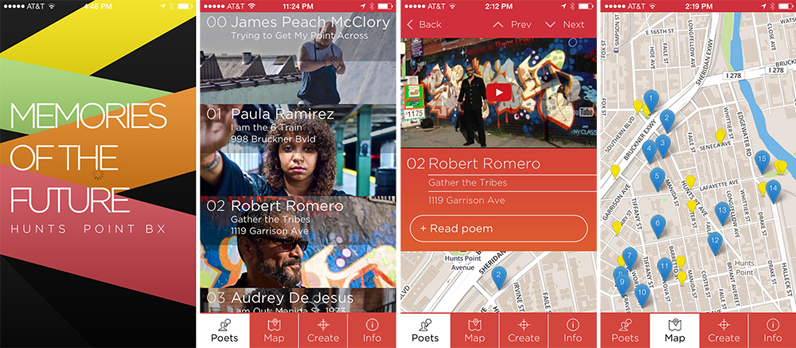 Hunts Point: From "Infamy to Fame"
Members of the Hunts Point, South Bronx community can tell you that the reputation of their neighborhood has been sullied by a history of drugs, crime and prostitution. Local artists, however, have a fresh story to tell that casts the notorious neighborhood in a new light. Under the direction of Melanie Crean, assistant professor of media design at Parsons The New School for Design, a team of poets, artists, filmmakers and application developers are addressing issues of urban spatial injustice and highlighting the creative reinvention taking place in Hunts Point. The platform for their efforts? A new mobile application Crean designed called, Memories of the Future (MotF).
MotF is a location-based app that uses the urban landscape of Hunts Point not only as a background for each artist's story, conveyed through spoken word poetry, but also as a central force in each narrative. Poets were filmed in 15 locations throughout the neighborhood, performing work centered on matters that resonate with the entire community: over-incarceration, environmental discrimination and strength to transcend adversity. In the app, users can view the individual video vignettes (and the locations they were filmed in) that form the collective story.
The app will come to life on Saturday, June 21 at the Memories of the Future Poetry and Mobile Cinema Walk sponsored by the Bronx Museum. Audiences will have the opportunity to accompany MotF poets to the locations featured in the application, and watch them perform and engage in discussions regarding the issues mentioned in their work. The event is a "walking conversation with people who are involved in potentially proposing solutions for the problems that the MotF artists address," says Crean.
Inspiration for MotF arrived when Crean met Majora Carter two years ago. Carter, an urban revitalization strategy consultant and the CEO of Start Up Box South Bronx, a nonprofit focused on technology education and entrepreneurship for South Bronx residents, wanted to create a high-tech art piece calling attention to the changes happening in Hunts Point. The team Crean assembled to craft the application includes a wealth of Parsons Design and Technology talent: part-time faculty member Dimitri Stancioff; recent graduates Apon Palanuwech and Jane Friedhoff; and current MFA student, Ekatarina Efimova.
"My goal for the application is to reframe how people view Hunts Point," says Crean. "By calling attention to the significant amount of work being done and the creativity coming out of the neighborhood, I hope that people are able to see it anew and witness its vibrant, urban aesthetic for themselves."
For more information about the Memories of the Future Poetry and Mobile Cinema Walk on June 21, click here.