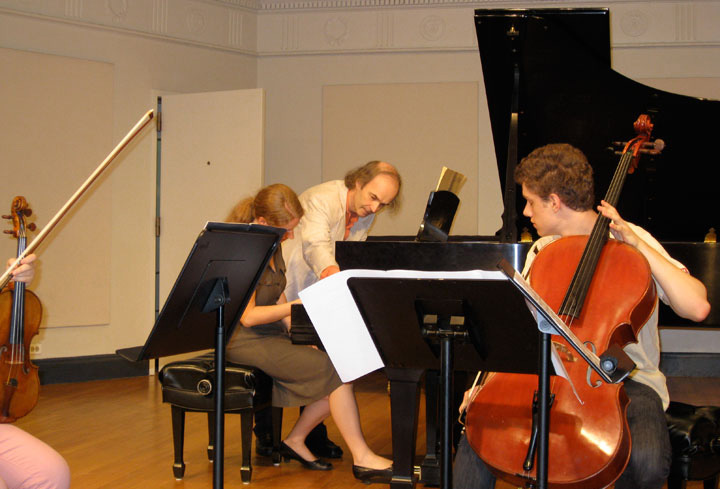 Beginning with Beethoven: Mannes Summer Institutes Bring Forth the Season
An impressive array of classical and contemporary music institutes, festivals, and seminars is afoot this summer at Mannes College The New School for Music. These include The Fourteen Annual Mannes Beethoven Institute, June 1-7; The Institute and Festival for Contemporary Performance, June 9-18; The Fourteen Annual New York Guitar Seminar at Mannes, June 24-29; and The Sixteen Annual International Keyboard Institute and Festival, July 13-27.
This year's intensive seven-day Beethoven Institute seminar will include some contemporary solo and chamber works by Stephen Hartke (b. 1952). Hartke's compositions, recognized for their intelligence, intricacy, and eclecticism, will be studied and performed along with the Beethoven repertoire.
Participating faculty include pianists Michael Kannen, Alan Feinberg, Yuri Kim, Thomas Sauer, Ignat Solzhenitsyn; violinists and violists Ara Gregorian, Serena Canin, and Mark Steinberg; and tenor Nils Neubert. Faculty concerts will take place on Monday, June 2 at 8:00 p.m., and Friday, June 6 at 8:00 p.m. Tickets are available at the door or online.
The Institute and Festival for Contemporary Performance (IFCP) held each June at Mannes brings together the most talented young instrumentalists and vocalists in the United States and abroad to work with established and experienced musicians around a series of concerts, lectures, symposia, conversations, workshops, and master classes that explore the multiple variations in today's musical domains, along with the great works of the avant-garde. This year's artists include Allen Blustine, Curtis Macomber, Susan Palma Nidel, Marc Ponthus, and the IFCP Ensemble. For more concert and ticket information visit the IFCP website.
Held every July at Mannes, the internationally recognized New York Guitar Seminar is a week of intensive technical and musical training open to guitarists and music enthusiasts of all ages and levels of skill. The faculty is composed of a dozen of the world's top guitarists. There is an array of activities, with over 50 hours of programmed events. In addition to four faculty concerts, dozens of master class lessons, and daily ensemble coaching by some of the world's greatest guitarists, the seminar provides multiple solo and ensemble performance opportunities for all participants as well as lectures and innovative workshops.
This year's faculty include Benjamin Verdery, Mariano Aguirre, Newman & Oltman Guitar Duo, Dennis Koster, The Sharpe-Zohn Guitar Duo, Francisco Roldán, Ana Vidovic, Tali Roth, Laura Oltman, Allen Krantz, Andrew Zohn, Carlo Valte, Fabio Zanon, Ana María Rosado, Michael Newman, Seth Himmelhoch, and Robert Sharpe.
All sessions are open to the public. For ticket information visit the website.
The International Keyboard Institute (IKIF) founded by Mannes alumnus and faculty member Jerome Rose, features performances by world-renowned pianists, master classes, and symposia. Each July, the schedule includes two concert series: the Prestige Series, at 6:00 p.m., featuring accomplished young artists from around the world, each just at the beginning of an international career, and many of them recent winners of major international competitions; and the Masters Series, at 8:30 p.m., featuring Guest Artists and Faculty.
This year's Prestige series includes:
Khowoon Kim, Gabriele Leporatti, Gesa Luecker, Alexander Schimpf, Magdalena Baczewska, Matei Varga, Conor Hanick, Ah Ruem Ahn, Alexandre Moutouzkine, Stanislav Khristenko, and the 2014 E-Competition Winner.
The Masters series includes Jerome Rose, Ilya Yakushev, Nina Tichman, Alon Goldstein, Victor Rosenbaum, Andrea Lucchesini, Marc-André Hamelin, David Dubal, Yuan Sheng, Alexander Kobrin, Akiko Ebi, Massimiliano Ferrati and a Gala concert.
There will also be lectures on "The History and Interpretation of the Mazurka through Chopin and Szymanowski" by Grzegorz Niemczuk; "Van Cliburn in Moscow 1958: The Price of Success" with Stuart Isacoff; "The Recorded Legacy of Vladimir Horowitz" with Jon Samuels and Joseph Patrych; and "Remembering Vladimir Horowitz" with David Dubal and Rexa Han.
For a full schedule of events and performance programs visit the IKIF schedule website and click here for tickets.
For more information about all institutes and festivals, visit www.newschool.edu/mannes/summer. Except where noted, all events will be held at Mannes College, 150 West 85th Street.