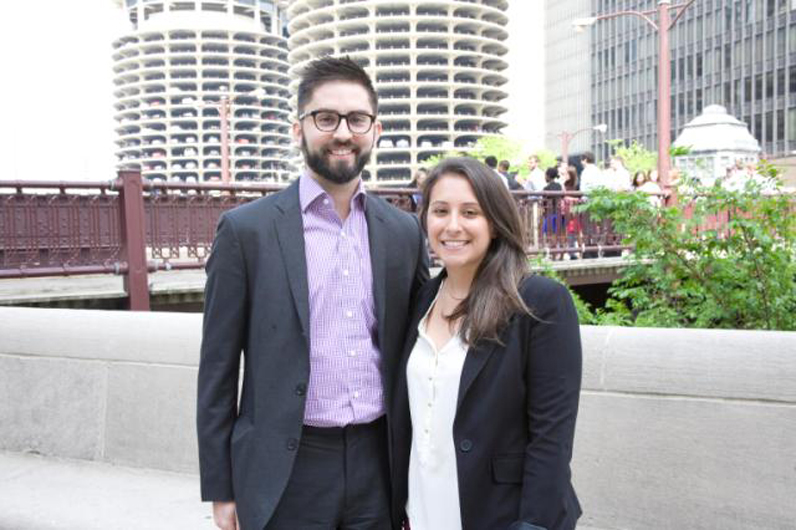 Milano EPSM Graduates Excel as EDF Climate Corps Fellows
"I'm always amazed by what can be accomplished when you throw a bunch of really creative and intelligent people into one room for just an hour—let alone for nearly a week," says Lisabeth Tremblay. The newly-minted Milano School of International Affairs, Management, and Urban Policy alumna, along with fellow classmate Zachary Koser, recently spent four days in Chicago witnessing just that sort of brain power—at a training session for the highly selective Environmental Defense Fund Climate Corps. The EDF Climate Corps is a summer fellowship that places specifically trained graduate students from a variety of disciplines in companies, cities and nonprofits as experts on energy efficiency and sustainable strategy. Tremblay and Koser, graduates of the Environmental Policy and Sustainability Management (EPSM)- MS program, were amongst 117 EDF Climate Corps Fellows selected from over 700 applicants.
Milano's EPSM program played a significant role in preparing Tremblay and Koser for the EDF fellowship. "My education gave me a solid foundation in the managerial and business world," says Tremblay, "but with an edge." While many of the other fellows openly expressed their discomfort with client interactions, Tremblay remained confident in her ability to engage with stakeholders, citing the experience she gained from Marina Tyazhelkova's Organizational Assessment and Diagnosis course and Scott Gassman's Organizational Change Interventions course.
Another critical lesson Tremblay learned as a Milano EPSM student: how to be an expert generalist. "Professor John Clinton taught me that having knowledge of many subjects would be unbelievably helpful when dealing with clients from a variety of backgrounds," says Tremblay. "I can talk GIS (Geographic Information Systems) to urban planners, efficiency and waste to facilities, and then explain my analysis to the finance team."
On June 4, Tremblay began her ten-week fellowship with the Jacksonville Transportation Authority (JTA) in Jacksonville, Florida, working in the government sector on sustainable strategy and accreditation plans. As an EDF Fellow assisting the JTA, Tremblay hopes to expand her consulting and project management skills all while growing her network.
"You really need to be a well-rounded graduate student to apply for this fellowship," Tremblay notes. "Milano's EPSM program ensures just that."
Learn more about the Milano EPSM program here.