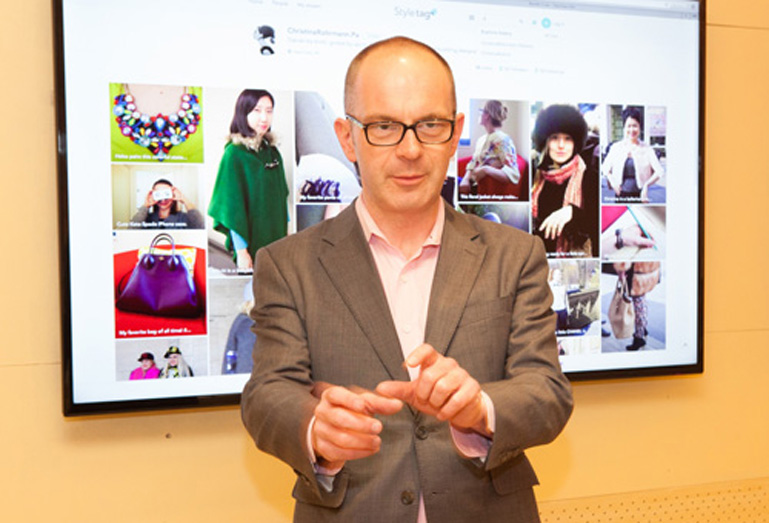 Parsons X Styletag Weekender Challenge Winners Announced
Parsons and StyleTag have announced the winners of the Station-to-Station Weekender challenge, which awarded our designers over $25,000 in prizes. After months of trend-sighting on StyleTag's app, our designers have generated a huge social network of images of the fashion on New York's streets.
Between February 6 and March 10, 2014, students from across our three campuses (New York, Paris and Parsons AAS Online) were asked to create and upload original photos to Styletag, a fashion-sharing app used by designers, photographers, bloggers, stylists and others in the fashion industry. Through the app, Styletag gave Parsons' designers exposure to the global fashion community. In this image-making, trend-based competition, sponsored by Styletag, participants uploaded their posts to Styletag once per day for the duration of the challenge. Entries of original photographic content focusing on today's trends and consumer insight were eligible for cash prizes.
Simon Collins said, "As fashion and technology have grown increasingly intertwined, Parsons is very pleased to have partnered with the innovative Styletag app. With an interface that celebrates real-world designs and trends while harnessing the power of technology, it is an indispensible tool for fashion education in our digital age."
Russ Eisenman, head of marketing for Styletag's developer, San Francisco-based SK Planet, Inc., adds, "Giving young talent a place to shine is why we built Styletag, and we're thrilled so many Parsons students have joined. The Parsons Challenge has allowed us to showcase the versatility of the Styletag platform as much more than a handy app for mobile commerce – it's a forum for the digital fashion community to share ideas and images, spot trends, get inspired and even get discovered."
Weekender Challenge entries were judged based on the following criteria: ability to capture trends and consumer insight; image quality (artistry, color, lighting, styling, composition, etc.); inclusion of descriptive trend information; and inclusion of sufficient and accurate product information, with bonus points awarded for live purchase links.
Styletag awarded cash prizes in three categories: Women's Ready-to-Wear, Accessories and Trends.
Winners in each of these categories are:
Accessories
1. Malaika Haaning
2. Olivia Burca
3. Jennefer Keyserman
Trends
1. Diotime Boudoussier
2. Vicky Bateman
3. Kylie Conibear
Womenswear
1. Jill Lao
2. W. Griffin Snyder
3. Katrina Chan
Featured Styletag work was on display alongside thesis work from students in the AAS Fashion Design and AAS Fashion Marketing Programs at an end of the year exhibition taking place between May 22-30.
This post originally appeared on the 560 Parsons School of Fashion magazine.