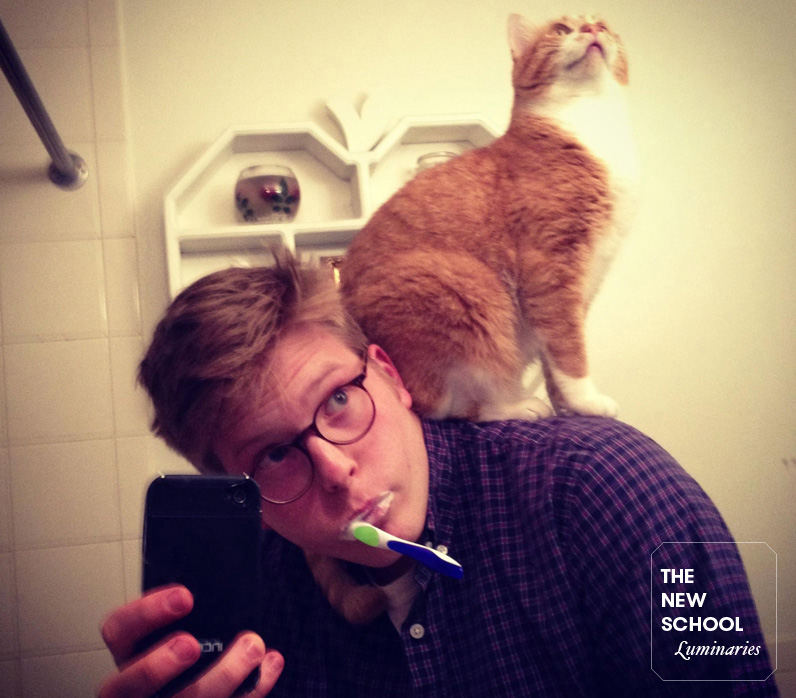 The New School Luminaries: Miles Kohrman
The New School has been home to world-changing thinkers and creators since its founding nearly a century ago, with giants like Marlon Brando, Aaron Copland, Donna Karan, and Hannah Arendt having studied or taught here. Today that tradition continues as a new generation of writers, researchers, performers, artists and designers keep The New School at the cutting edge.
"New School Luminaries" profiles these stand-out members of the New School community. Stay tuned to the New_S for inspirational stories of our most recent alumni, as well as current students and faculty.
"These days, I'm a serial moonlighter," says Miles Kohrman, sitting in one of the most enviable office spaces in the city—Fast Company's sunlitindustrial-chic lounge on the 29th floor of 7 World Trade Center. It's not a bad view—both literally and figuratively—for the 2013 Eugene Lang College grad, who now spends his days writing for the business and design magazine. His nights keep him busy as well, with freelance writing and editing for the quarterly soccer publication EightByEight Magazine (he says he got the job by sending them angry tweets about their soccer coverage)and the New Republic's World Cup Blog. There's also the occasional cultural retrospective, like Voices of Crisis, a public program he helped organized for the university last February.
After leading The New School's student paper, the Free Press, to new levels of success (the monthly print, daily online paper won its first two Associate Collegiate Press Pacemaker awards under his editorship), Kohrman is deftly crafting his own path in the midst of a new age of journalism.
"The news industry is on the brink of major change," says Kohrman. "There is so much experimentation, and people are really beginning to embrace a culture of innovation." Going vertical is what's in vogue for publications now, he says, explaining that news sites are creating sections with a focus on just one topic, like NPR's Planet Money, the biweekly podcast created to demystify the fallout of the Great Recession for noneconomist listeners.
"The news industry is on the brink of major change," says Kohrman. "There is so much experimentation, and people are really beginning to embrace a culture of innovation."
"When publications first went online [circa late 1990s], they made the mistake of trying to publish as much content as they could to fill what had become a 24-hour news cycle," says Kohrman. "Now journalists are realizing that—with the rise of so many publications on the Web, as well as the influx of what we call citizen journalists—there's just no point in trying to cover everything. It's a better practice to own a space that produces in-depth, quality content on a field or subject, instead of just spewing out crappy copy." That's a model Kohrman is not only familiar with but also put into practice as editor of the Free Press, where he helped initiate a shift to online, long-form journalism.
It wasn't only prose style that Kohrman mastered while at Lang. With the guidance of Free Press faculty advisors Heather Chaplin and Andrew Meier, he also developed the digital chops and confidence to navigate—and lead—the vastly changing news marketplace. "One of the best parts about Lang was that I never felt confined," he says. "I was encouraged to test new things, put my ideas out there, and have my work critiqued by my peers." That certainly was the case at the Free Press, too. "We were always experimenting to find out what digital tools told each story the best." It's proved a successful tactic for the school, which sees graduates landing jobs in an industry still struggling to find its digital footing and a new business model. These alumni include Kevin Dugan at the New York Post, Aidan Gardiner at DNA Info, Elizabeth Garber-Paul at Rolling Stone Magazine, and Hannah Rappleye at NBC News.
As for what the next five years hold, Kohrman isn't quite sure. At just 23 years old, though, with a range of experience already under his belt, he has reason to feel confident about the future "For now, I'm just looking forward to Germany bringing home its fourth World Cup title."
Learn more about Eugene Lang College's Literary Studies program here.