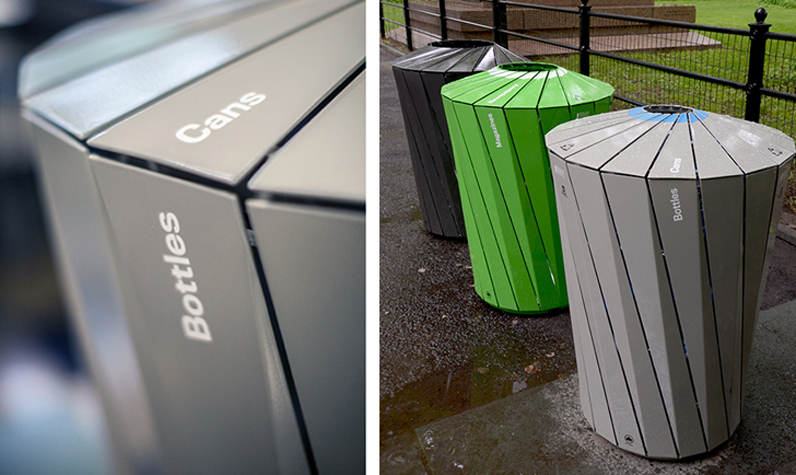 Parsons-Designed Bins Collect More Than Trash
When it comes to garbage, the phrase "award winning" probably doesn't spring to mind. For Anthony Deen, however, it just may. Deen is a graduate of Parsons' Master of Architecture program and an instructor at the School of Art, Media, and Technology (AMT) who also works at Landor Associates. In 2012, the firm was invited by the Central Park Conservancy to redesign Central Park's trash and recycling receptacles. For their design, Deen and his Parsons-affiliated team drew on the park's aesthetic features and history while focusing on function and sustainability. Now, just a year after they were installed, the sleek new containers are receiving accolades from throughout the design world.
Since winning the Chicago Atheneum's Good Design Award in January, the project is having a particularly fruitful 2014. Last month, Deen's team won the inaugural Gold Lion Award for Product Design at the Cannes Festival of Creativity, the world's largest gathering of branding and communications professionals. Earlier this summer, the receptacles received a Global Design Merit Award for Public Installation from the Society for Environmental Graphic Design (SEGD). And the Industrial Designers Society of America recently named the project a finalist for the International Design Excellence Award (IDEA).
The project's success is the result of intensive collaboration. The Landor Associates team included School of Constructed Environments instructor Mike Boylan, former AMT faculty member Craig Dobie, AMT alumna Lady Tanmantiong, and Brad Scott, who previously served as an AMT guest critic. The fact that they are all associated with Parsons didn't escape Deen's notice. "It definitely says quite a bit about the position of Parsons in the New York design community," he said.
The Parsons community has long been recognized for its outstanding design contributions to the city. In May, students from the BFA Product Design program displayed their work at Wanted Design, part of the highly anticipated second annual NYCxDesign Week. The same month, students from the Parsons Design Workshop helped unveil the redesigned Highbridge Pool and Recreation Center, a project three years in the making. And earlier this year, MFA Design and Technology students teamed up with The Metropolitan Museum of Art on a project to reimagine museum accessibility.
Like the Highbridge and Met collaborations, this project wouldn't have been possible without the right client. Deen gives credit to the Central Park Conservancy, which hired Landor Associates with an Alcoa Foundation grant. "We're very proud of the project and the work we did with the conservancy. This is as rigorous a project as I've worked on, and it delivers on everything it promised," he said. One way it has delivered? A 35 percent increase in recycling in Central Park and a notable drop in the park's pest infiltration, giving new meaning to the saying "One man's trash is another man's treasure."
Read more about the project on the Landor website.