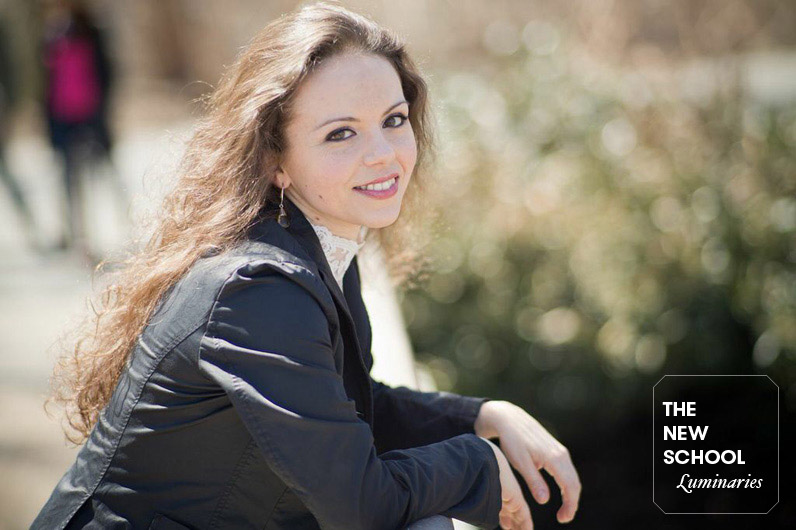 Bringing Opera to the Masses
For those familiar with New York City, a loft in Brooklyn may not be the stereotypical performance space to find world-class singers and musicians performing operatic masterpieces like Don Giovanni and Bohème, but then again, this city is brimming with surprises and talent. Mannes College The New School for Music alumna Laetitia Ruccolo (MM Collaborative Piano '11) works with Brooklyn's Loft Opera to introduce new audiences to the captivating world of opera, right in their backyard.
Born in Alsace, France, Ruccolo studied piano solo, music pedagogy and collaborative piano in Paris and Salzburg before coming to New York for her graduate studies. As a Master of Music student in collaborative piano at Mannes, she fondly recalls spending most of her time on campus, alongside friends and classmates—many of whom she professionally collaborates with today.
In what can only be described as the ultimate New School musical collaboration, Loft Opera utilizes the varying expertise of former New School students to produce intimate, cost-efficient and fundamentally groundbreaking performances of great operatic works in a relaxed musical environment. Daniel Ellis Ferris and Dean Buck, founders of the Loft Opera, studied at The New School for Jazz and Contemporary Music. Also a part of Loft Opera are: Kristen Scott, singer and artistic coordinator, who studied at Mannes along with bass-baritone Pnini Grubner; baritone Suchan Kim; tenors Paul Han and Won Whi Choi; sopranos Liana Guberman, Boya Wei and Larisa Martinez; and mezzo-soprano Yoojin Kim.
As the music director for Loft Opera, Ruccolo finds artistically innovative ways to craft arrangements for its reduced orchestra. Below, she shares with us how her time at Mannes has influenced her work and the Loft Opera's mission to bring opera to the masses.
What brought you to Mannes The New School for Music?
Laetitia Ruccolo (LR): In 2008, a group of my musician friends and I were all accepted to music schools in New York. I chose Mannes because I loved the friendly atmosphere of the school from the start. Every year after auditions my teacher and the Director of Collaborative Piano, Cristina Stanescu, organizes a reception for all the candidates, current students and singers who sang for their exams. I never saw that type of involvement with or dedication to celebrating students anywhere.
Another reason I came to Mannes—I heard that the voice department was one of best of the country, and I was very excited to work with wonderful singers.
Are there specific principles, ideas or instructions you received during your time at Mannes that you still remember today?
LR: The first thing that comes to mind when I think about Mannes is its supportive atmosphere. In France, where I grew up, the general ambiance in the conservatories is very competitive. This type of environment fosters solid musicians with strong personalities, but many talented and creative people are lost along the way because they get discouraged. The atmosphere at Mannes is more about emulation rather than competition. If someone did something great, no one was jealous, but instead would think, "If he can do it, I can do it too!" Artists don't need competition, but stimulation, and that's what I got at The New School.
How did the Loft Opera begin?
LR: Daniel Ellis Ferris and Dean Buck, two students from The New School for Jazz and Contemporary Music, started the Loft Opera while they were performing in the young Brooklyn music scene. They thought it would be an interesting experiment to bring opera into that environment and decided to perform Don Giovanni at the Gowanus Loft as if it was a rock concert, with the audience sitting on benches and drinking beer. The project wouldn't have happened if they hadn't met the wonderful mezzo-soprano Kirsten Scott who was cast to sing Zerlina in the production. She immediately thought that the concept was fantastic and encouraged me and our other friends to get involved.
What are some of the challenges you've faced with Loft Opera and how have you overcome those challenges?
LR: During Don Giovanni, some members of the cast backed out at the last moment. Despite the initial challenge, our connections to Mannes helped us find wonderful singers in half an hour. It shows how adaptable, talented and well-prepared Mannes students are.
A big difference between more classic opera companies and us is that we have to adapt to the challenge of staging and performing in a venue that wasn't conceived for opera. Sometimes it's hard for non-musicians to realize that classical music is an art of extreme precision, where every second is carefully planned and memorized. It is already incredibly difficult to sing in perfect conditions, so it becomes almost impossible when the acoustics aren't great, the orchestra is on the other side of the room, and the conductor is not always visible. Our singers and musicians are real heroes.
What are the ways that you and Loft Opera are positively disrupting the larger New York music scene, the field of classical music and opera?
LR: I see two main reasons for the success of Loft Opera. First let me say I'm not one of those people who think classical music is dying. Like Beethoven, I think that music is the highest realization of the human mind, tapping into all sorts of emotions; we just have to make opera more accessible to the public.
With Loft Opera, we are trying to break the idea that opera is elitist by bringing music directly people who would never go to the Metropolitan Opera because of the money or because they think they don't belong in that world. By offering a high quality performance at a low price within a relaxed musical environment, we show diverse audiences that opera is for everyone.
The other very important point is the extremely high level of talent amongst the singers. All of them are ready for an international career and could sing in any theatre in the world. As the New York City Opera no longer exists, these talented young people don't have many occasions to perform in the city. We have more and more professionals coming to our shows because they know they will hear the stars of the future there. The concept of Loft Opera alone wouldn't work without the spectacular singing.
What's next for you and Loft Opera?
LR: I recently played for a program in France called "L'Art du Chant Français," organized by Glenn Morton, vocal coach and teacher of Italian diction at Mannes. Soon I'll be going to the Franz Schubert Institute in Austria and also have upcoming projects in France and Italy.
As for Loft Opera, we are working on the next season, and it's sure to be filled with surprises! I would love to introduce our audiences to some less famous, but just as wonderful, masterpieces.
Learn more about Loft Opera and their upcoming season at http://www.loftopera.com/.