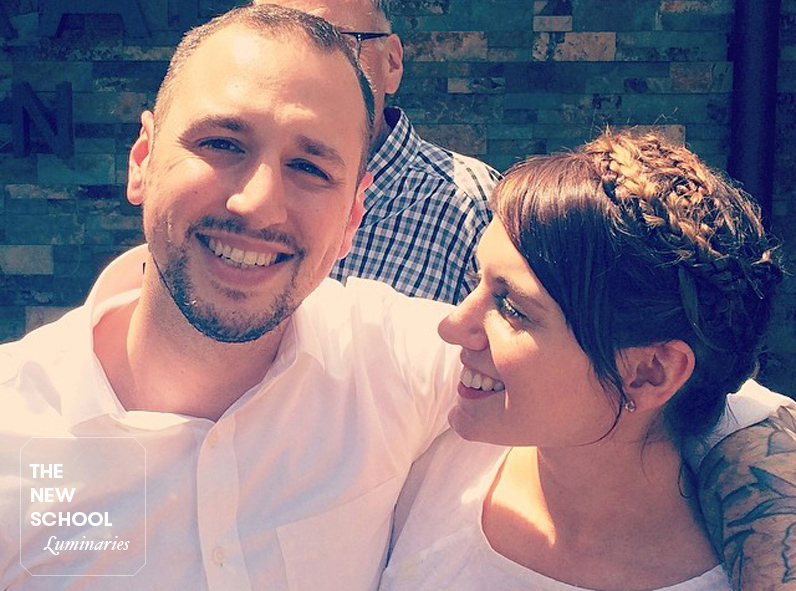 A Tale of Two New Schoolers
When Geoffrey Golia started dating Caitlin Abber in the fall of 2009, she was just beginning her graduate studies at The New School for Public Engagement. Fast-forward five years and the two are engaged to be married in December. Golia, a 2005 Eugene Lang College The New School for Liberal Arts alumnus with a penchant for punk music and Abber (MA Media Studies '11), a lover of art and politics, share an undeniable connection extending beyond their studies at The New School. At the foundation is a commitment to social justice.
Abber is the managing editor for MTV Act, the network giant's social good website covering everything from celebrities participating in charity work and major national campaigns, to opportunities for youth engagement in social issues. Golia is a social worker and employment and internship coordinator at Getting Out and Staying Out (GOSO), a re-entry organization helping justice-involved young men ages 16 to 24 achieve success with respect to employment, education and their personal lives.
Attracted to the small class sizes, seminar-style teaching and what he refers to as the "humanities-driven, social-justice-informed education," Golia thrived academically and in his extra curricular activities during his time at Lang. He served on the Lang Student Union and Student Labor Union Group, and worked as a peer adviser and writing fellow. "I cannot overstate enough the amount to which my undergraduate experience at Lang prepared me for my master's level education in social work and for my day to day work as a direct-practice clinical social worker and social work researcher," he expresses.
According to Golia, the fundamental aim of social work is to address social, racial and economic injustice (often positively disrupting and challenging the political and social status quo in the process). Social workers promote human thriving and happiness, topics that Lang initially introduced to Golia in his sociology, cultural studies, economics and philosophy coursework. At GOSO, Golia is tasked with not only empowering the young men he works with to reach their positive goals, but is also courageously defending the idea that these young men are people, "not ex-cons, or felons, or criminals."
Like Golia, Abber is no stranger to the challenges of empowering young people. Originally from Sharon, Massachusetts, a small suburb south of Boston, she spent a lot of time testing the waters in and around New York City before applying to the Media Studies MA program at The New School. "It seemed to be a place that fostered little weirdos," says Abber, "which is what I generally feel like, so I applied."
With a long held interest in writing, media and politics, it all seemed to click for Abber when she began her studies. "Because the program is so varied," says Abber, "I was able to sample a little bit of everything, which left me extremely well-rounded when it comes to media skills—something that is so necessary as a manager of a website."
MTV Act empowers young people to take action in the causes they care most about. As managing editor, Abber develops content that "informs, entertains, and helps create a culture of personal strength and acceptance." By giving young people the tools, words and information they need to make a difference, Abber uses MTV's superpowers on a daily basis to affect social change at a very personal, grassroots level.
For Abber and Golia it was never cool to be apathetic. They try to include an element of agency in everything they do, hoping it will rub off on others. "Our work is an extension of those values, many of which were incubated at The New School," says Golia. "For us, this work doesn't end when we leave the office. It's about changing hearts and minds, and you can't just do that from 9 to 5."
Interested in learning more about MTV Act? Visit the website. For more information on Getting Out and Staying out, click here.