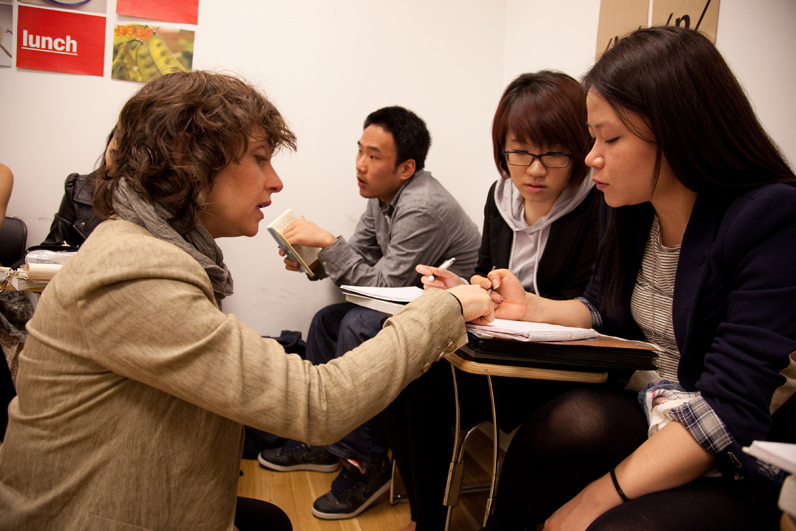 MA TESOL: A Community Affair
Behind scaffolding that's covered the ornate stone façade for years now, Grace Church School on Manhattan's East Village hummed with activity. Despite it being late July and the height of summer vacation, classes were in full swing at the highly regarded, century-old institution, and Olivia Nunez stood in its entryway like the queen bee overseeing the hive.
Nunez manages community engagement for Go Project, an afterschool education program for primary- and middle school-aged children partly housed at Grace Church School. During the summer, Go Project offers a rigorous, five-week summer curriculum for academically challenged students from Lower Manhattan and Chelsea, many of whom are first or second generation Americans.
That's where The New School comes in. "Parental involvement in a child's education is paramount to success," says Nunez. "And language barriers, we found, were certainly hampering progress." Go Project reached out to The New School for Public Engagement to help address some of these challenges. Master's students from the Teaching English to Speakers of Other Languages program (TESOL) spend two hours every Saturday during the academic year teaching English to the parents of children enrolled in Go Project.
"Our master's students help the Go Project parents not only with their English skills so they can better assist their children when it comes to school, but also in terms of their emotional well-being," says Lesley Painter-Farrell, the director of the MA TESOL program. Although many of the English lessons center on issues likely to come up with young children in grade school, like homework help, communication at parent-teacher-conferences, and the ability to respond to and understand information coming home with students from school, New School students also help parents with stress management, U.S. citizenship test preparation, and most importantly, building confidence.
"We had one mother come in after the class and say that before the program, her child would make comments that she was stupid because she didn't speak English," remembers Painter-Farrell. After learning the fundamentals of English, the mother reported feeling more self-assured, with a better connection to her child. Difficulties in using English take a toll on the parents' psyche. "They feel disenfranchised once their children's English skills surpass their own," she says. "This can cause not only a clash in the family culturally, but also a reliance on children to be interpreters."
This fall marks the third year The New School will partner with Go Project, and both programs are optimistic about their future work and pleased with the results so far. "I'm always surprised by the New School students' eagerness and creativity," says Nunez. "It's really a form a therapy, these classes." She mentions particular lesson plans the MA students devised to get parents talking about their children, and their struggles in immersing them in a new culture. "We're working together to diminish the language deficit," says Painter-Farell.
For more information on The New School's MA TESOL program visit the website at www.newschool.edu/public-engagement/ma-teaching-english-to-speakers-of-other-languages/.
To learn more about Go Project, visit www.goprojectnyc.org/.