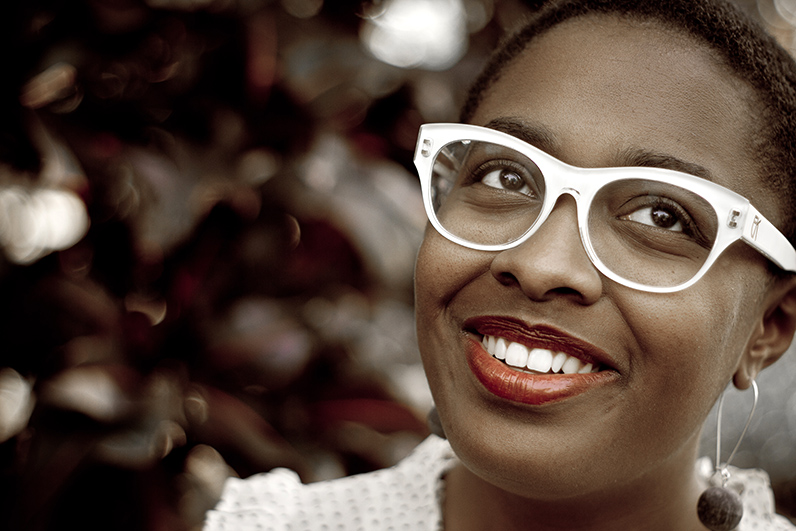 New School for Jazz Still a Hit with Downbeat
No jazz aficionado's summer would be complete without an eager anticipation for Downbeat Magazine's annual critics poll. The 62nd edition of the survey, which examines every facet of the genre's current landscape, hit magazine stands earlier this month. Once again, New School for Jazz and Contemporary Music (NSJCM) talent echoed throughout. Between the established artists and the rising stars, New School musicians collected thirteen top votes and appeared in 42 of the poll's 63 categories.
Three of the jazz program's original founding faculty members, the late Jim Hall and Chico Hamilton, as well as Jimmy Heath, surfaced on the Hall of Fame list. Hall, who Downbeat refers to as a "Poet of the Guitar," received the top position. Both he and Hamilton passed away last year.
Former student Cécile McLorin Salvant earned the top votes in Jazz Album and Female Vocalist, and topped the Rising Star – Jazz Artist and Rising Star – Female Vocalist lists as well. Faculty members Jane Ira Bloom, Matt Wilson, Michele Rosewoman, and Billy Harper joined Salvant in the Jazz Album category. Bloom also topped the Soprano Saxophone list.
Either as a soloist or with his eponymous ensemble, the versatile Robert Glasper made seven appearances in established artist categories from Jazz Artist, to Composer, and received top votes in the Beyond Artist or Group and Keyboard lists. The Robert Glasper Trio also garnered attention in the Rising Star – Jazz Group category.
When scanning this year's poll for New School individuals, Jazz's executive director, Martin Mueller was quick to show his enthusiasm. "It's even bigger than last year's!"
NSJCM musicians received 84 recognitions in total. View the complete list below.
(A) = Alumnus/a; Former Student
(OF) = Original Founding Faculty Member
(F) = Faculty
Hall of Fame
Jim Hall (OF) – Top Vote
Chico Hamilton (OF)
Jimmy Heath (OF)
Jazz Artist
Robert Glasper (A)
Matt Wilson (F)
Jazz Album
Cécile McLorin Salvant, WomanChild (MACK AVENUE) (A) – Top Vote
Jane Ira Bloom, Sixteen Sunsets (OUTLINE) (F)
Matt Wilson Quartet + John Medeski, Gathering Call (PALMETTO) (F)
Michele Rosewoman's New Yor-Uba, 30 Years! A Musical Celebration of Cuba In America (ADVANCE DANCE DISQUES) (F)
Randy Weston/Billy Harper, The Roots Of The Blues (SUNNYSIDE)
Jazz Group
Robert Glasper Experiment (A)
Big Band
Roy Hargrove Big Band (A)
Trumpet
Soprano Saxophone
Jane Ira Bloom (F) – Top Vote
Chris Potter (A)
Walter Blanding Jr. (A)
Tenor Saxophone
Baritone Saxophone
Piano
George Cables (F)
Brad Mehldau (A)
Robert Glasper (A)
Keyboard
Robert Glasper (A) – Top Vote
Larry Goldings (A)
Organ
Larry Goldings (A)
Sam Yahel (A)
Guitar
Mary Halvorson (A)
Peter Bernstein (A)
Bass
Ben Allison (F)
Avishai Cohen (A)
Reggie Workman (F)
Electric Bass
Drums
Matt Wilson (F)
Andrew Cyrille (F)
Allison Miller (F)
Percussion
Bobby Sanabria (F)
Susie Ibarra (A)
Male Vocalist
Female Vocalist
Cécile McLorin-Salvant – (A) Top Vote
Composer
Ben Allison (F)
Robert Glasper (A)
Beyond Artist or Group
Robert Glasper Experiment (A) – Top Vote
Antibalas (Jordon McClean, Aaron Johnson) (A)
Beyond Album
Robert Glasper Experiment, Black Radio 2 (A) – Top Vote
Rising Star Jazz Artist
Cécile McLorin Salvant – (A) – Top Vote
Mary Halvorson (A)
Ben Allison (F)
Jose James (A)
Rising Star Jazz Group
Mary Halvorson Trio (A)
The Cookers (Billy Harper, George Cables) (F)
Robert Glasper Trio (A)
Thumbscrew (Mary Halvorson, Tomas Fujiwara) (A)
Rising Star Trumpet
Jonathan Finlayson (A) – Top Vote
Michael Rodriguez (A)
Ian Carey (A)
Takuya Kuroda (A)
Rising Star Trombone
Corey King (A)
Nils Wogram (A)
Rising Star Soprano Saxophone
Rising Star Alto Saxophone
Casey Benjamin (A)
Sharel Cassity (A)
Logan Richardson (A)
Rising Star Tenor Saxophone
Marcus Strickland (A)
Kenneth Whalum III (A)
John Ellis (A)
Rising Star Baritone Saxophone
Rising Star Piano
Rising Star Keyboard
Rising Star Organ
Rising Star Guitar
Peter Bernstein (A) – Top Vote
Gilad Hekselman (A)
Mike Moreno (A)
Rising Star Bass
Avishai Cohen (A) – Top Vote
Rising Star Electric Bass
Rising Star Drums
Allison Miller (F)
Jamire Williams (A)
Rising Star Miscellaneous Instrument
Omer Avital (OUD) (A)
Casey Benjamin (VOCODER) (A)
Rising Star Female Vocalist
Cécile  McLorin Salvant (A) – Top Vote
Becca Stevens (A)
Rising Star Composer
Ben Allison (F) – Top Vote
Mary Halvorson (A)
Rising Star Arranger
Rising Star Producer
Spike Wilner (A)
Ben Allison (F)