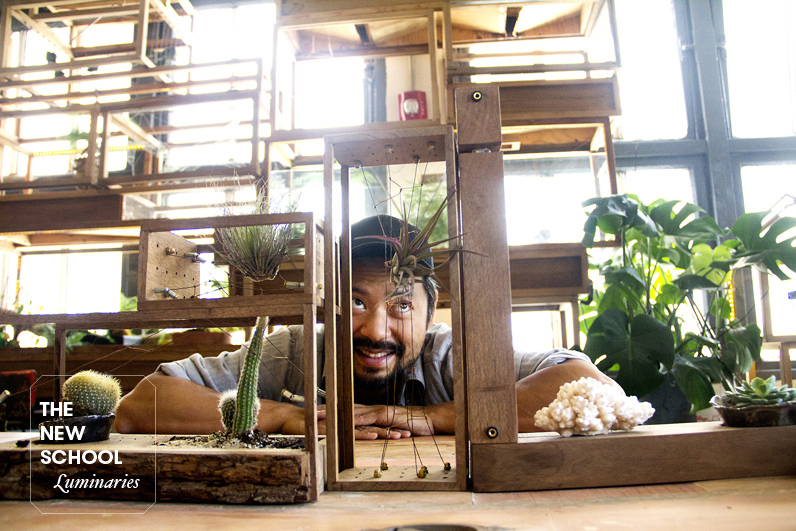 Seeing Plants in Our Future
At a warehouse next to the bustling Williamsburg Bridge, a new city is growing. It's not a typical metropolis—there are no businesses, no laws, not even the steady beat of human activity—but it is alive, a thriving system. Huy Bui's Plant—in City, a project run out of his Brooklyn studio, has all the qualities of a futuristic science experiment. Or, as Bui, a Parsons The New School for Design alumnus (MArch '07) would prefer to describe it, it's the answer to the question, "How can I keep my plants alive when I go on vacation?"
At least, that's what started the practice of building modular, stackable systems of wood and various plants—tiny ecosystems developed and nurtured by ingenious technological artistry. "They talk to each other," says Bui, as mist forms around a rootless plant suspended in industrial wire and planks of wood. The project has since evolved into a microcosm of a changing society. "Historically, architecture has ignored or existed outside the realm of technology. Given our future needs, it's about time we integrated the two."
Bui is talking about the rise of migration-related urbanization in coming years, a trend that will necessitate the development of "smart cities." Already this past June, a United Nations report announced that more than half of the world's population was living in cities—and the number is increasing. The challenge now is for architects like Bui to make these growing urban areas more hospitable and efficient. "We will have to adapt," says Bui, "and start working together to build these living, breathing metropolises."
Bui often peppers his explanations with references to and metaphors of the body, organisms, and society; it's a habit that fits well with his Plant—in City project. "Plants are deeply entrenched in the history of human civilization," he says. "We have used them for shelter, for food, as medicine, and as a form of beauty. So, of course, we all like plants." As populations continue to expand and more people move into urban areas, the goal would be to seamlessly integrate plants and buildings. "Make the buildings breathe," he muses.
Bui's green consciousness developed by degrees. After four formative years as an undergraduate at George Mason University, Bui received a bachelor's degree in business finance and real estate. At that point, he felt ready for some real-world experience, which came in the form of a job at the banking giant Wells Fargo. It wasn't his dream gig, the undercover designer soon realized. "I just found myself with no creative outlet, literally pushing paperwork," he says. "I wanted to go out and find my place in the world."
That search took Bui from his home in the Washington, DC, area to a pre-architecture program at Parsons in 2003. He stayed on for a master's degree, participating in projects involving sustainable and socially engaged design. He spent three months working with the Design Workshop, Parsons' design/build program, to construct an information center in DeLisle, Mississippi, in the wake of Hurricane Katrina.
"The career of an architect is a long one," Bui says. The many projects he has managed since graduation include co-founding and designing the space for An Choi, a Vietnamese eatery in Manhattan's Lower East Side, designing furniture, and renovating interiors, as well as developing Plant—in City.
Along with fellow artists and designers, Bui also founded and works with Home Made, an online showroom that presents a collection of artwork, lighting fixtures, housewares, and hand-crafted objects. Bui's schedule leaves little time for vacationing, but rest assured, his plants will be well nourished should the opportunity arise.