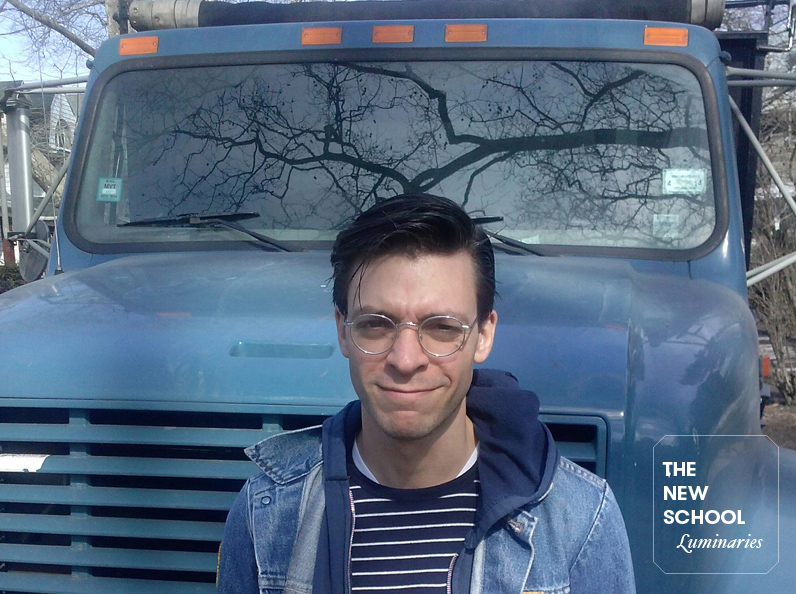 Small-town Sound, Big City Music
Anthony LaMarca never made it to his commencement ceremony. The New School for Jazz and Contemporary Music alumni, singer-songwriter and musician graduated in 2009, but joined musician St. Vincent (aka Annie Clark) as her drummer on tour the day after his classes ended. The two met at the suggestion of the sound engineer working on the Dean Wareham tour LaMarca was a part of at the time. "I think she liked that I had a good sounding snare drum and liked Steely Dan," he says about his fateful first meeting with Clark.
Prior to touring with St. Vincent, LaMarca participated in his fair share of gigs—paid and unpaid—as a multi-instrumentalist. He speaks highly about the town that nurtured his love for music—Youngstown, Ohio, known as a large steel-manufacturing hub in the 1970s. "It has a fascinating history, has had some great people come from there, and there are great people there now doing interesting and exciting things," he says of his hometown.
LaMarca played music in and around the Youngstown/Cleveland/Pittsburgh area since the age of 12 and remembers how playing gigs at a "dingy bar" on Wednesdays from 10 pm until 2 am with his brother molded them into artists who played music out of desire. "I think there is still that work ethic in us," he says reflecting on his early experiences. "Finding every opportunity to play helps keep you hungry and be better." After completing high school in Youngstown, he moved to New York City to attend The New School for Jazz.
"My time at The New School influenced the kind of musicians I seek out," he comments. "I like playing with people who have thought a lot about the music they are making and who are trying to do it at the highest level they can." For LaMarca, attending The New School allowed him to push himself and instilled in him a heightened awareness of his musical craft.
Continuing his track record of playing with some of today's most innovative artists, LaMarca is currently on tour with indie rock band The War on Drugs, playing guitar and keyboards. He is also co-founder of Primary Records, a label he started with his friend and fellow Youngstown native, Oren Kessler. Primary Records isn't concerned with a specific genre or whether a band is going to "make it big," according to LaMarca. It's concerned with whether a band is interesting and producing quality music.
LaMarca and his brother Angelo's band, The Building, released its first record, The Swooshy Businessman, with the label in 2012. He calls The Building's sound 'romantic American music,' focused on song and heavily influenced by folk traditions, but considers it neither folk nor country music. In his words, "the music is about family, Youngstown, masculinity, and Italian-American traditions of Western Pennsylvania." As an artist, his goal is to always play music that he cares about and enjoys. For LaMarca, this means writing deeply personal songs centered on his hometown and the lives and stories from within it.
Aside from touring, writing, producing, and recording records, LaMarca will publish a book of photos through Parts & Labor. The subject of the book? Empty Utz chip bags on the street (he encourages searching the hashtag '#utzonthestreet' on Instagram). "In the words of the great Mr. Seinfeld," he says, "'we never obsess over anything that isn't mundane.'"
Click here for more information about The New School for Jazz and Contemporary Music.