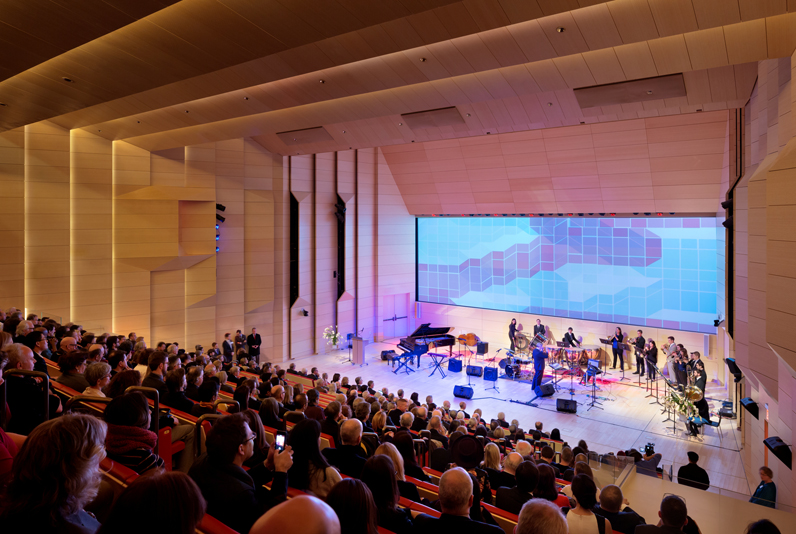 Top Events of the Semester
Innovative minds have always found a platform at The New School. Since its founding in 1919, The New School has been a premier venue for public programming, with readings by renowned authors and poets, interviews with artists, and lectures by leading thinkers.
This tradition continues in the fall semester with a roster of engaging events open to the New School community and the public. Highlights of this semester's events include Climate Action Week, including a talk by author and activist Naomi Klein (September 18); and the Schwartz Lecture with economist Thomas Piketty (October 3). Read on for a detailed list of the fall's public programs.
This Changes Everything: Capitalism Versus the Climate
Thursday, September 18, 2014, 6:00 p.m.
John L. Tishman Auditorium, University Center at 63 Fifth Avenue, room U100
In a kickoff to Climate Action Week, best-selling author Naomi Klein discusses her new book, This Changes Everything. Her talk is followed by a discussion with special guests about engaging with the issue of climate change. The New School's Climate Action Week includes a diverse set of programming directed towards the university and wider community for enriched learning and engagement opportunities, scholarship, innovation and creativity, solidarity and collective action, and highlighting New School's values around climate justice and action.
Speakers: Naomi Klein, author and activist, and special guests.
Event page
NYC Media Lab Annual Summit
Friday, September 19, 2014, 8:30 a.m.–5:30 p.m.
The Auditorium at 66 West 12th Street, Alvin Johnson/J. M. Kaplan Hall
New York City universities showcase their media and technology projects and research in a range of areas such as design, digital media, computer science, and engineering.
Speakers: David Van Zandt, President, The New School; Jon Oringer, founder and CEO, Shutterstock; and Dr. Genevieve Bell, vice president and Intel Fellow, Intel Labs director, User Experience Research.
Event page
David Miliband: Migrants, Refugees, and Deportees: Confronting the Humanitarian and Political Challenge
Tuesday, September 30, 2014, 6:00–7:30 p.m.
The Auditorium at 66 West 12th Street, Alvin Johnson/J. M. Kaplan Hall
David Miliband, a global leader on issues of refugees and migration, helps mark the launch of the Zolberg Center on Global Migration with a discussion on humanitarian and political challenges involving migrants, refugees, and deportees.
Speakers: David Van Zandt, president, The New School (introduction), and David Miliband, president and CEO of the International Rescue Committee. Moderated by Miriam Ticktin, associate professor of anthropology and co-director of the Zolberg Center on Global Migration.
Event page
Schwartz Lecture: Thomas Piketty
Friday, October 3, 2014, 5:15 p.m.
Theresa Lang Community and Student Center, Arnhold Hall, 55 West 13th Street, room I202
The Schwartz Center for Economic Policy Analysis at The New School for Social Research presents a lecture with leading economist and best-selling author Thomas Piketty.
Speaker: Thomas Piketty, economist and author.
Event page
bell hooks at Eugene Lang College
Friday, October 3-10
Location TBD
Prominent scholar and activist bell hooks will continue her residency at The New School with a series of talks, hosted by Eugene Lang College, with which she has a long-standing association, from October 3 to 10.
Speaker: bell hooks, feminist scholar and activist.
Stay tuned to the NEW_S for updates.
From Punk 'Zine to Major Media Force: VICE
Thursday, October 30, 2014. 6:30–8:00 p.m.
The Auditorium at 66 West 12th Street, Alvin Johnson/J. M. Kaplan Hall
Co-founder Suroosh Alvi speaks about VICE, the global youth media company and do-it-all media entity focused on culture and news.
Speaker: Suroosh Alvi, reporter and co-founder of VICE.
Event page
Facing Two Apocalyptic Threats: Nuclear Disaster and Climate Change
Thursday, December 4, 2014, 6:00–7:30 p.m.
The Auditorium at 66 West 12th Street, Alvin Johnson/J. M. Kaplan Hall
The Center for Public Scholarship at The New School for Social Research welcomes psychiatrist and author Robert Jay Lifton and author Naomi Oreskes for a discussion on the parallels between the nuclear threat and the threat of climate change.
Speakers: Robert Jay Lifton, psychiatrist and author, and Naomi Oreskes, professor of the history of science and affiliated professor of earth and planetary sciences at Harvard University.
Event page
Innovative and Immersive Literature Symposium
Thursday, December 4, and Friday, December 5, 2014, 6:30–8:00 p.m.
Theresa Lang Community and Student Center, Arnhold Hall, 55 West 13th Street, room I202
This two-day symposium on the future of technology and literature includes discussions on new ways writers and poets are engaging readers through technology.
Speakers: Ram Devineni, filmmaker, publisher, and founder of Rattapallax Films and magazine; Julie Buntin, director of Programs and Strategic Outreach at the Council of Literary Magazines and Presses; Rick Moody, award-winning novelist and short-story author; and others.
Event pages: day one and day two