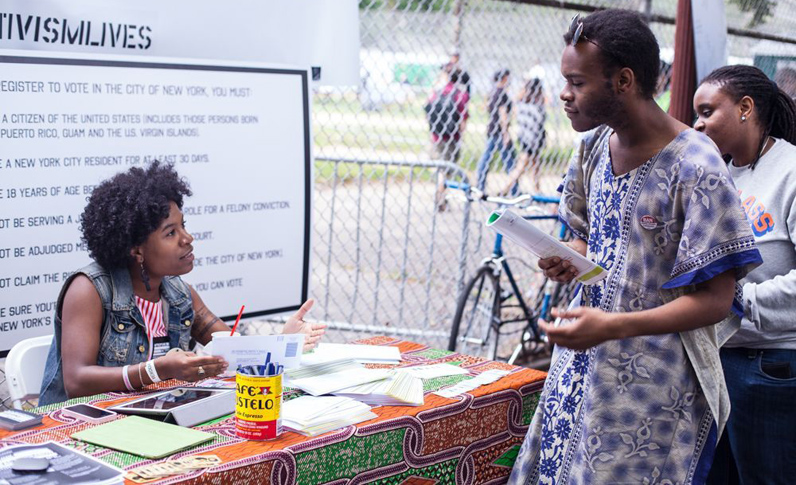 Activism at AFROPUNK
Most people attend AFROPUNK for the music, the funky styles, and the celebration of counter-culture. But in a summer underscored by the deaths of Eric Garner and Michael Brown, the protests in Ferguson, Missouri, and the subsequent national conversations about American race relations, one aspect of the two-day festival was particularly significant this year. The New School's Robin J. Hayes was key to its success.
The Milano School of International Affairs, Management, and Urban Policy professor and founder of Progressive Pupil co-curated Activism Row, an interactive social justice experience for festival attendees. Hayes coordinated with non-profit organizations such as Girls for Gender Equity, People for the Ethical Treatment of Animals (PETA), and the Black Alliance for Just Immigration. Participants could register to vote and learn about the upcoming People's Climate March. The space provided resources and opportunities to reflect while empowering young people to see themselves as agents of social change. A Progressive Pupil survey showed that [ctt tweet="91% of AFROPUNK's Activism Row visitors felt they had learned more about social problems impacting their communities," coverup="83Vlb"] while 95% became more aware about opportunities to get involved.
As someone who works with passionate young people every day, Hayes was not surprised by the response. However, she did not expect the media coverage. "Although Activism Row had a small physical footprint at the festival, it seems to have made a big impact in terms of its significance to the AFROPUNK festival and movement at large," she said. Hayes also credits the numerous New School students and alumni who volunteered during the two-day event for making it such a success.
Read about Hayes' involvement with Activism Row in a Brooklyn Reader interview from August, or learn more about her work with Progressive Pupil.