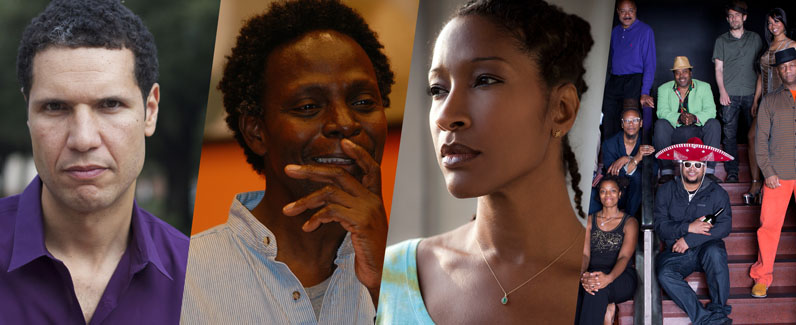 Reclaiming Imaginative Agency Through Art and Ideas
The events of 9/11 shook the city and the nation. For Eugene Lang College The New School for Liberal Arts professor, activist, and artist Sekou Sundiata (1948–2007), the events challenged his understanding of what it meant to be an American and a critically engaged citizen at a time of turbulence in world affairs. Sundiata developed a "research-to-performance" teaching methodology to explore these issues, which he called The America Project.
The America Project began as a seminar Sundiata taught at Eugene Lang College from 2006 to 2007, which evolved into an ongoing national program offered by MAPP International Productions, a nonprofit dedicated to engaging audiences through contemporary performing arts projects and fresh perspectives on social issues. In its present form, The America Project is an "arts-based and artist-driven public exploration of what engaged citizenship in the U.S. means today," says Cathy Zimmerman, executive producer at MAPP International Productions. The project "stimulates critical citizenship, imagination, and civic dialogue through creative process and public engagement" by means of a variety of public activities such as citizenship dinners, civic public dialogues, and large-scale events like the annual Days of Art and Ideas.
This year, Eugene Lang College joins MAPP International Productions to present Days of Art and Ideas, a weekend-long festival held on September 11–13. The events celebrate art and civic engagement while examining the roles art and artists play in advancing dialogue on important issues and effecting social change. The festival showcases emerging and established artists in activities that invite diverse communities to explore the intersection of artistic practice and civic engagement.
"Days of Art and Ideas is a great way to kick off the semester," says co-curator and Eugene Lang College professor Cecilia Rubino. "The New School has a legacy of social justice, civic engagement, and openness to the community. My hope is that the different constellations of the university can come together during the three-day festival."
Curated by Rubino, fellow Eugene Lang College professor Brian Lewis, and playwright and performer Will Power, this year's Days of Arts and Ideas explores Sundiata's research-to-performance methodology through workshops, panel discussions, film screenings, and staged readings. The festival culminates with WeDaPeople's Cabaret—a multidisciplinary celebration of the power of arts and community, founded by Sundiata himself in 2006. Other highlights include a screening of a documentary on the creative process behind Sundiata's theater piece the 51st (dream) state and readings of plays on subjects such as immigration, the prison system, and the repeal of the "don't ask, don't tell" policy, by Liza Jessie Peterson, Yadira De La Riva, and Marc Wolf.
Of the importance of art in social change, Rubino says, "Through storytelling, we can challenge ourselves to reimagine the world around us. Participating in the creative process and art making can help us reclaim the imaginative agency necessary to break the cycle of social injustice."
Admission to the festival is free, but seating is first come, first served. The festival takes place Thursday, September 11, to Saturday, September 13, at locations throughout the New School campus. Visit The New School Events Calendar for more information.