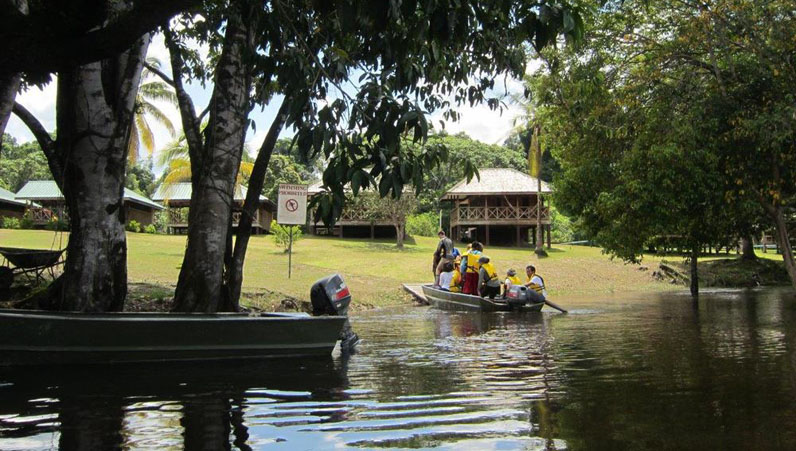 Into the Amazon
As with most things, The New School is turning the notion of what it means to study abroad on its head. Under the instruction of Eugene Lang College The New School for Liberal Arts professor Mona Shomali, ten undergraduate students from across disciplines participated in a three-week long abroad program this summer in Guyana. Entitled "Indigenous Human Rights in the Amazon," the course immersed students into the Guyanese Amerindian culture and their efforts to protect and sustain the tropical rainforest ecology they live in.
"This program was complex by design to ensure a robust, engaged experience for students," says Jonathon White, associate dean of Student Affairs at Eugene Lang College, who helped facilitate the program. "Students were invited to meet with Amerindian communities to conduct field research and observation, while understanding the political, social and ecological implications of resource management. It's an integrated approach whereas study abroad programs through other institutions might have a narrower disciplinary focus."
The program consisted of 22 days of instruction, including field research, interviews and site visits with different Amerindian communities, a lecture series by professor Shomali and guest lecturers from NGOs and State Administration. Along with completing fieldwork and research, students shared their perspectives of the program by blogging about their experiences. From analysis of the indigenous ecosystem to the impacts of ecotourism, student blogs reflected a myriad of outlooks and a rich, global learning environment.
For some students, the study abroad program was a chance to gain real-world experience on their quest to becoming global citizens. Equipped with a documentary film and photography background and an interest in indigenous human rights and the environment of the Amazon, Lang junior Olivia Zimmerman enthusiastically signed up for the program in Guyana. "Not only did the program exercise my leadership skills and prepare me to work collaboratively in groups, it also gave me the opportunity to create a portfolio related to the subject matters I am interested in," she says of her experience.
Zimmerman along with Lang sophomore Zuzanna Krzatala took Shomali's 'Skills for Global Change' course and looked for the opportunity to apply what they learned in class out in the field. Two years ago Krzatala visited Yasuni National Park in Ecuador where she saw firsthand the destructive impact of deforestation and oil drilling in the Amazon. "In Professor Shomali's class she introduced me to the concept of environmental justice and various indigenous human rights case studies in the Amazon. I signed up for the program because I was curious to compare my previous experience as an ecotourist with a more authentic indigenous community interaction as part of a student research group."
Students who missed out on immersing themselves in the Amazon this summer need not fret. Eugene Lang College provides many opportunities for students to do field work and engage with local communities. In January 2015 students will be able to explore democratic citizenship and neo-liberal globalization with Professor Carlos Forment while taking intensive language courses in Buenos Aires, Argentina (full description here). Summer 2015 boasts a whole host of programs including a program in Rwanda exploring genocide and reconstruction, and others in Germany, Shanghai, Poland, Cambodia and more.
More information and photos on "Indigenous Human Rights in the Amazon" available at: http://www.newschoolguyana.com/. For more information about other study abroad programs please visit the website here.