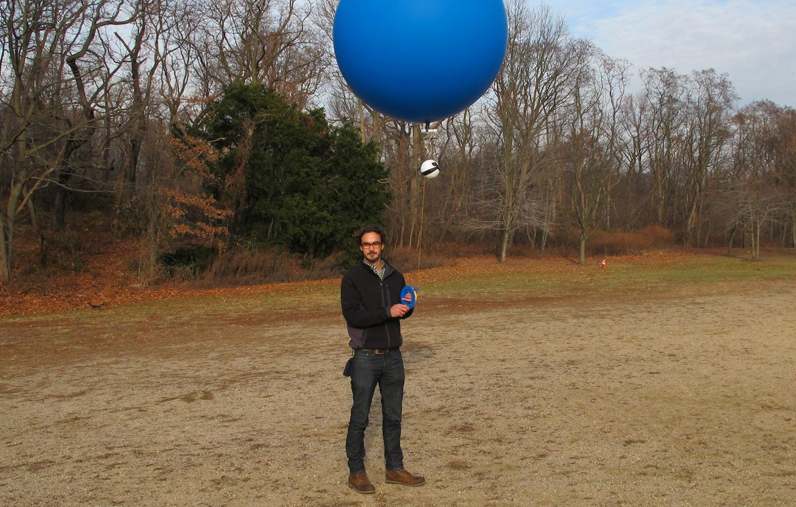 It's a Bird… It's a Plane… It's Project Fogg!
Sean Baker and James Frankis (MFA Transdisciplinary Design '14) never rescued a princess or staged a comic bullfight or circled the globe on an obscenely large bet.
What they do have in common with Phileas Fogg—the intrepid Victorian gentleman-protagonist of Around the World in 80 Days—is the ability to use air balloons in richly imaginative ways.
That's why Fogg's name was such a natural fit for Baker and Frankis' revolutionary new project, a "balloon-powered visualization tool" that allows local leaders to capture and access real-time footage of their communities in the aftermath of hurricanes, floods, and other natural catastrophes.
Baker and Frankis were inspired to develop Project FOGG in the wake of Hurricane Sandy, which left thousands of New Yorkers stranded and without resources. Wouldn't it have been useful, the then-Parsons students thought, if information about the best evacuation routes or the locations of major fires and immobilized residents had been immediately available to emergency responders? Project FOGG meets this need by "taking disaster-hit communities from passive participants to active responders," Baker says.
"Right after a disaster, organizations such as FEMA [Federal Emergency Management Agency] and the Red Cross don't know exactly what's happening on the ground," adds Baker, who also works as a consultant at ORGE Innovation in Jersey City. "People can be left stranded for hours. [ctt tweet="Project FOGG enables communities to take the lead on their own disaster response efforts."" coverup="fz33r"]
Here's how it works: Following a disaster, an air balloon equipped with a camera and Wi-Fi device is deployed from a fixed location; aerial footage of the affected area is then transmitted to on-the-ground users such as police, firefighters and other emergency service personnel, who can employ that data to develop a response plan.
"It's a visual rallying point," says Frankis, who is also a design strategist at Gensler, a New York City–based global design firm. "Leaders can look at the feed of the FOGG kit together and think about the best way to react to the situation."
Frankis and Baker are quick to point out that in the case of a hurricane, tornado, or other catastrophe, the balloon should be launched after the storm has died down.
"Otherwise, it's just going to blow around and probably won't pick up video," Frankis says.
Some observers have wondered why Baker and Frankis don't use drones instead of balloons, given the increasing prevalence of the unmanned aerial vehicles. For one thing, drones carry a price tag of hundreds or thousands of dollars—far beyond the budget of many communities; by contrast, Project FOGG costs about $40 to make. What's more, Project FOGG is about as complicated to assemble as an IKEA shelving unit.
"We want people to be able to make this themselves," Baker says.
Hatching their idea at the School of Design Strategies at Parsons The New School for Design, Baker and Frankis were guided by The New School's focus on creating actionable solutions to real-world problems. The Humanitarian Design Lab at Parsons has served as the de facto headquarters of Project FOGG.
Baker and Frankis received another boost from their alma mater in the form of a $10,000 New Challenge grant. The duo has also benefited from a network of professionals and organizations, including members of FEMA and fellow students, who have helped shape the project through their creative input.
The idea for Project FOGG took root during Hurricane Sandy. Living and studying in New York City during the storm, Baker and Frankis were troubled by what they call the "inaction" of city leaders in responding to the crisis.
"There wasn't any leadership, and there needed to be," Frankis recalls. "All they were asking for was money. We wanted to tackle the problem in a more profound and direct way."
If you see an air balloon floating in the skies above New York City, chances are it's not a vehicle for a Victorian gentleman sailing off into the sunset, but the invention of two intrepid New School students who channeled their imagination into actionable innovation.
Go here to learn more about Project FOGG.