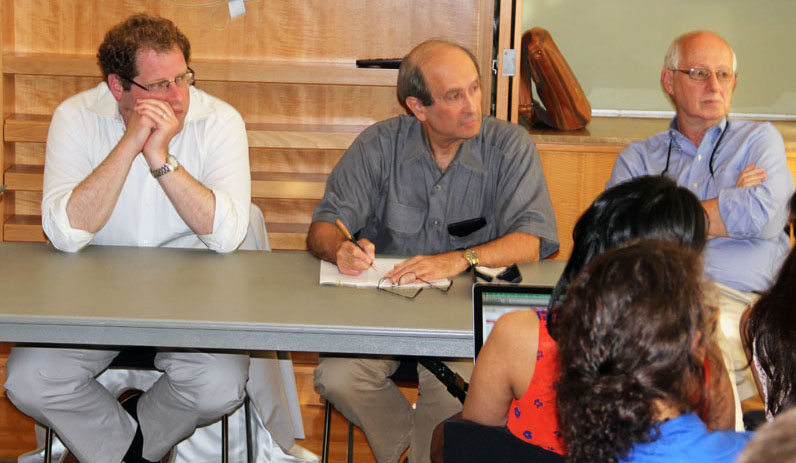 New School Faculty Discuss Argentinian Debt Crisis
A trio of faculty members and financial industry insiders at the Milano School of International Affairs, Management, and Urban Policy at The New School shed light on the Argentine debt default crisis recently, blaming the issue on a small yet powerful group of so-called "vulture funds" seeking full repayment on their investment in the country's distressed securities.
The instructors – Michael Cohen, chair of the Graduate Program of International Affairs (GPIA); Barry Herman, visiting senior fellow at the GPIA; and Max Fraad-Wolff, Professor at GPIA – made their remarks during a panel discussion, "In the Long Shadow of Argentina's Unnecessary Default," at the Dorothy Hirshon Suite at Arnhold Hall, Tuesday.
Cohen opened the discussion, providing the historical context for and recap of recent events that sparked the confrontation between the Argentine government and the vulture funds, most notably New York City-based Elliott Management Corporation. He said that while the majority – around 93 percent – of Argentina's creditors agreed to slash the value of their holdings following the country's debt default, the vulture funds, which had "purchased the debt at a low level hoping to get a very high return," wouldn't budge.
"They are asking for a 1,600 percent return on their investment," said Cohen, who was present for the discussions at the United Nations that led to the aforementioned agreement between Argentina and the bulk of its bondholders. "None of the other creditors are making the same demand."
The crisis flared up earlier this summer when the U.S. Supreme Court ruled in favor of the vulture funds, ordering Argentina to pay the full amount of interest payments. Critics, Cohen said, charge that there is a "political dimension" to the court's decision.
Argentina isn't the first victim of the vulture funds predatory strategy, Herman said during his portion of the talk. He cited Zambia and Peru as other casualties.
"It is a game that's been played many times in many countries," said Herman, who completed almost 30 years at the United Nations Secretariat, the last two years of which were as senior advisor in the Financing for Development Office in the Department of Economic and Social Affairs.
During his turn to speak, Wolff, an economist and hedge fund analyst, said that the vulture funds are now focusing on a new target – one that, for the students in attendance, hit uncomfortably close to home.
"I'm going to leave you with something very disturbing," Wolff said, ominously. "They're going after your student loan debt next."
To learn more about the Graduate Program of International Affairs, visit their webpage.