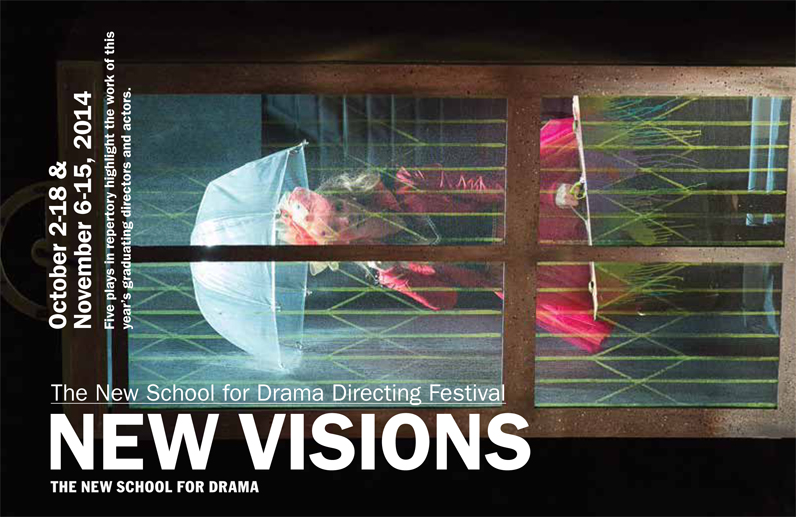 Student Directors Bring 'Visions' to Life At Annual Theater Festival
Asked to describe the experience of a theater director, Pitr Strait evokes the title character of Caryl Hill's 1994 play, The Skriker.
"The Skriker is a shapeshifter, constantly moving and mutating," Strait, an MFA student in Theater Directing at The New School for Drama, says. "Attempting to distill a play into one simple, consistent form is like wrestling with the wind."
Strait finds it better to "embrace that formless freedom and ride the treacherous currents of all the way to the end."
Theater-goers will see that journey play out on stage when Strait and his colleagues in the MFA in Theater Directing Program bring contemporary plays to life at the New Visions Directing Festival.
The festival, which runs October 2-18 and November 6-15 at The New School for Drama Theater, 151 Bank Street, features five plays performed in repertoryby graduating MFA directing and acting students.
In addition to Strait, who will direct The Skriker, the festival highlights the work of Nikki Przasnyski (Stupid Kids),Lyto Triantafylidou (pool no water), Noa Egozi (Mud) and Celine Rosenthal (Yellow Moon).
[ctt tweet=""This year's New Visions Festival is the culmination of work that has been both singular and collective,"" coverup="en11R"] says Lou Jacob, head of the MFA in Directing Program. "Each of these directors has developed their own distinctive voice, creating a view of their world that is both personal to them, yet true for the audience. At the same time these directors have worked closely together as a company, collaborating on the programming, staffing and execution of this season of work that is highly diverse, rich yet cohesive."
All performances are free, but seating is limited; reservations are recommended. To make reservations, call Ticket Central at 212-279-4200 or visit Ticket Central. For a full schedule of events, visit The New School for Drama.