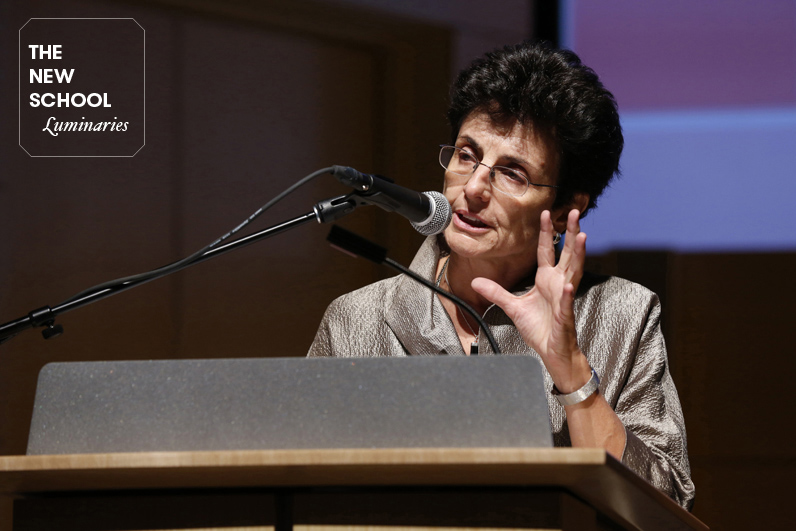 Ana Oliveira: Solutions for Women by Women
Ana Oliveira considers herself very much a product of her generation. The President and CEO of the New York Women's Foundation (NYWF) and New School for Social Research alumna, she grew up in São Paulo, Brazil, during the 1960s and 1970s—a period known for social revolutions and antiwar movements. For Oliveira (MA Anthropology '84), a stagnant Brazilian economy and social unrest shaped her worldview. Seeing limited opportunities to advance for her and her young Brazilian peers, Oliveira set her sights on earning a graduate degree in the United States. Attracted by the progressive and inclusive ideals of the University in Exile at The New School for Social Research (NSSR), she arrived in New York City in 1981.
"I chose The New School because I wanted an academically advanced environment with professional credibility," Oliveira says. In search of practical yet critical and human-centered approaches to social justice, she majored in anthropology. The groundbreaking critical methodology developed by Stanley Diamond, founder of NSSR's anthropology program, inspired Oliveira during her course of study. Other academics who influenced her perspective were Shirley Lindenbaum, an authority on medical anthropology, and Rayna Rapp, a specialist in gender constructs.
In addition to engaging with academic theory, Oliveira wanted to grapple with the social crises that were profoundly and rapidly altering New York City's social landscape. At The New School, she found opportunities for civic engagement, addressing rampant heroin and crack use, high levels of incarceration, and the outbreak of AIDS and HIV, all deeply troubling features of urban life in the 1980s. Oliveira witnessed the effects of these social ills firsthand as an NSSR student and intern at the Lincoln Hospital Acupuncture Clinic in the South Bronx. A "participant observer" at the clinic, she was exposed to alternative treatments for drug addiction, primarily the use of acupuncture. The internship served as Oliveira's entry point into New York City's social justice and human rights scene.
After graduating from The New School, Oliveira worked full-time at the clinic, where she explored the link between substance abuse and AIDS. At the time, crack was readily available and used by female sex workers, some of whom exchanged sex for drugs. AIDS, a disease that was once almost exclusively associated with men, was becoming ever more prevalent among women. "Women were invisible in the discussion on AIDS, yet they were increasingly affected by the disease," Oliveira says.
Gay Men's Health Crisis (GMHC) was one of the few community health organizations responding to women affected by HIV and AIDS. After years of volunteering at GMHC, Oliveira took a position with the nonprofit, where she established what later became an institute focusing on women's care. By expanding the institute's mission to include system-wide health-care change and early intervention, Oliveira increased the array of services available to women living with HIV. The broadened scope of the institute's services was motivated by the obvious benefits of making the care of women a priority. "When you invest in women, you will see a ripple effect on everyone in the household," says Oliveira.
Today, Oliveira serves as president of the New York Women's Foundation, a role in which she continues to advocate for and empower women. "At the NYWF, our job is to invest in the authorship of solutions for underserved women of color and their communities," she says. "We listen to and partner with them so that solutions can be scaled appropriately to their community."
In order to effect change, the NYWF relies on the varied expertise of community leaders. She recalls the emphasis her professors placed on applying theory in the effort to formulate practical, inclusive solutions. "I experienced firsthand what it meant for expertise to be lived out by my professors," she recounts. "That is something I try to implement in my work at the NYWF."
Oliveira's celebrated career defending human rights extends more than 20 years, and there's no sign that it is slowing—nor that her focus on social justice has shifted. "It's incredible that after all this time, I'm still engaging with the same issues that interested me while I attended The New School," Oliveira says.
More information on the New York Women's Foundation is available at www.nywf.org.