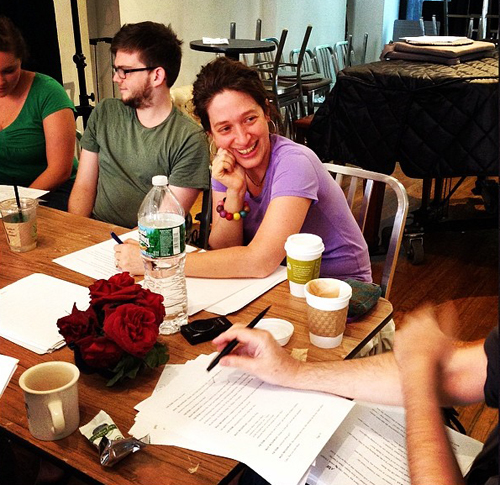 Directing Alumna Scores Second Straight Prize at Irish Theatre Festival
For the second year in a row, the winner for Best Director at the First Irish Festival isn't—well—Irish.
But heritage has had little bearing on the success of New School for Drama alumna Kira Simring, whose passion for Irish playwrights and talent for bringing their work to life has made her a perennial favorite at New York's annual festival of Irish theater.
"Thank you to Origin's First Irish Festival for embracing this New York Jew into your Irish community!" said Simring, who took home this year's prize for her work on The McGowan Trilogy, Seamus Scanlon's three-part series about a cold-hearted Irish revolutionary set during the Northern Ireland Conflict. "I'm astounded and honored."
Making her acceptance speech at the First Irish Festival award ceremony at New York City's Papillon Bistro Bar recently, Simring thanked her alma mater and her mentor, New School for Drama faculty member Elinor Renfield, "who imbued me with the passion for a life in theatre."
Simring is one of the many success stories that have emerged from The New School for Drama. After graduation, she embarked on a prolific, 15-year career in professional directing, working on dozens of plays atthe cell, a performing arts space and art gallery in Chelsea, and at venues across the country.
Her direction has been seen at The New Theatre Row Theatres, City Center's VOX at New York University's Skirball Theatre, The Thalia Theatre at Symphony Space and 80 St. Mark's Theatre, among others. Most recently, she directed the New York Times Critic's Pick Hard Times: An American Musical by Larry Kirwan.
Simring won the First Irish Festival's Best Director award last year for her work on McGoldrick's Thread.