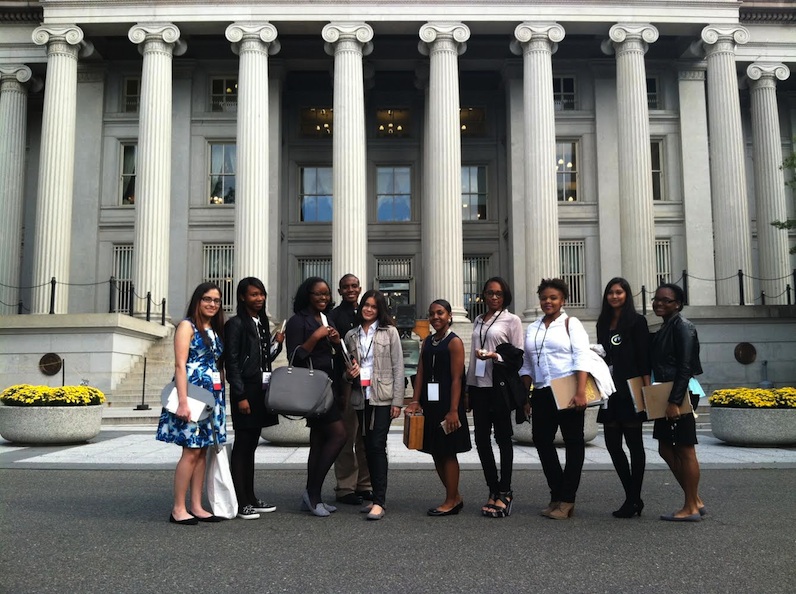 Parsons Scholars Program Develops The Next Generation of Designers
Stepping into the White House East Room, students in the Parsons Scholars Program were floored by the dazzling decor that unfolded before them: the glowing glass chandeliers, the full-length portraits of George and Martha Washington, the gold silk curtains hanging from sunlit Palladian windows.
Sometimes it's a ballroom. At other times, it's a stop on the White House Tour. But on the day of the Parsons Scholars' visit, this grand hall was the students' very own fashion design classroom.
"All right, we're just going to break this up one moment and just say, is this not cool?" First Lady Michelle Obama said, welcoming students, faculty, and faculty members from of Parsons School of Design to the first-ever Fashion Education Workshop at the White House. "I mean, come on. You're in the White House. There are some of the most impressive people in fashion here to teach you all, and to reach out and to mentor you. And there's food. What more could you ask for?"
The students agreed: The First Lady had thought of everything.
"It was an amazing feeling," said Amber Logan, a 17-year-old Parsons Scholar. "The First Lady's mission was to make us feel special, and she definitely succeeded. She told us to keep being the creative young people that we are."
As a Parsons Scholar, Logan often enjoys this kind of support and encouragement. Launched at The New School in 1997, Parsons Scholars is a free multi-year college preparatory program that enables students from New York City high schools to study art and design at the college level, get a head start on their careers, and acquire the tools they need to gain admission to top-tier universities. Parsons Scholars take classes at Parsons' Pre-College Academy and in Summer Intensive Studies, learn from professional artists and designers, and prepare for college through SAT prep courses, college essay writing classes, and career workshops with some of the biggest names in art and design.
Nazifa Ahmed, a 17-year-old Parsons Scholar, was excited to meet Zac Posen, a Parsons alumnus and internationally renowned fashion designer who has created outfits for Natalie Portman, Rihanna, and Amanda Seyfried.
"I really admire his work," she said. "You have no idea how awesome it was to meet him and get advice from him."
Parsons Scholars go on some pretty cool field trips, too. Joining a delegation of Parsons students, faculty, and leaders for the Fashion Education Workshop at the White House, the scholars participated in workshops and expert panels led by distinguished Parsons alumni and fashion industry leaders Jason Wu, Lela Rose, Narciso Rodriguez, Prabal Gurung, Thom Browne, and others.
The success of the program can be seen in its graduates. Since 1997, the Parsons Scholars Program has helped more than 200 young people gain acceptance to leading art and design colleges such as Carnegie Mellon, Rhode Island School of Design, Syracuse University, and Parsons. Ninety percent of Parsons Scholars complete the program and get accepted to college; seventy-five percent of the participants are the first in their families to attend college.
"Our students are too young right now to become big names, but they're already doing incredible things," said Nadia Williams, the director of Parsons Scholars. "By the time they graduate, they'll be in a position to succeed in college and in their careers."
Take Susana Chen, BFA Product Design '07. After graduating from Parsons Scholars and later, Parsons, she embarked on a successful career that has included work for Banana Republic, Target, and Gratz Industries. Speaking at the recent Parsons Reunion Exhibition at the Sheila C. Johnson Design Center, Chen praised Parsons Scholars for "pushing me to become the designer that I am today."
"I began my journey at a local high school in Queens and now, I'm traveling all over the world—to Sweden, Germany, Taiwan," Chen said. "As a teenager, I didn't know anything about design, and Parsons Scholars opened up this whole new world to me. I think I always had the talent, but Parsons Scholars helped me access it and nurture it."
Williams noted that while Parsons Scholars helps individual students, it also strengthens The New School and New York City communities. Many Parsons Scholars go on to become undergraduate mentors and youth advocates for the program; others employ their experience and expertise to "give back to their home communities," Williams said.
"As they move up in their careers, they're interested in bringing the community with them," she added.
Visiting the White House and hanging out with the First Lady was a pretty big deal. But Logan, who recently entered her third year in the Parsons Scholars Program, isn't letting it go to her head.
"It was such an amazing experience—I feel like there's so much I can accomplish," she said. "And I know that whatever I decide to do, I'm going to give back to the community that raised me."