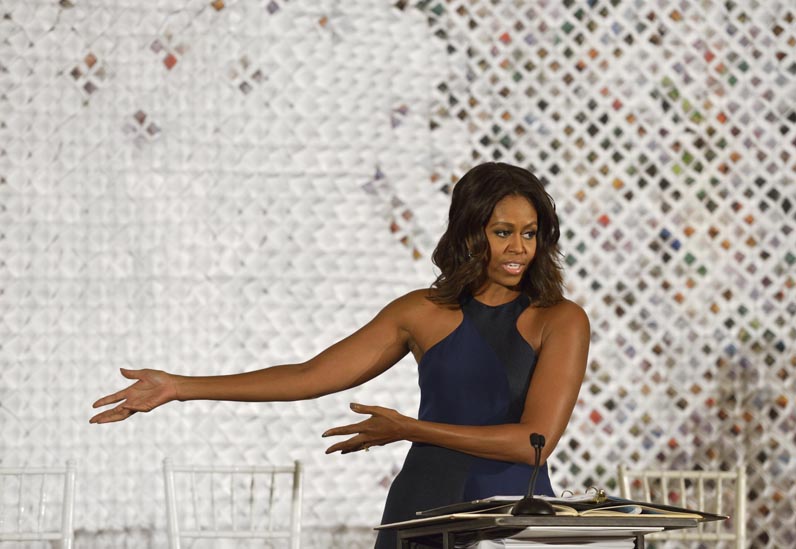 Parsons Students Join First Lady for White House Education Workshop
It isn't every day that you get to step foot in the White House.
It's even less often that you get to transform it into your very own classroom and art space.
But that's exactly what students from The New School's Parsons School of Design students got to do when they were invited to participate in the first ever White House Fashion Education Workshop on October 8, and to create an installation in the building's East Room over the last two weeks.
The students came at the invitation of none other than The First Lady Michelle Obama.
"I want to thank all of the students and faculty from Parsons who contributed to the installation today," said Obama, who in a speech highlighted Parsons graduates Jason Wu, Lela Rose, and Narciso Rodriguez for their contributions to fashion and design. Addressing young designers, she said, "If you can sit at these tables and sit here with all these great people, you can do anything […] We are proud of you, our president is proud of you."
A delegation of 31 students, as well as distinguished alumni, faculty and leaders from Parsons, visited the White House for the event—a chance to rub elbows with The First Lady and learn about design in the official residence of the President of the United States. Ten students from the Parsons Scholars program, which provides intensive arts and design learning to students from underserved New York City high schools, were selected to participate at the workshops.
In the weeks leading up to the event, sixteen Parsons undergraduate and graduate students secretly conceived and built a striking installation in the White House East Room. The product of a rapid two-week exploration, led by Alison Mears, Dean of the School of Design Strategies at Parsons, Jonsara Ruth, Director, MFA Interior Design at Parsons, and stylist Helen Quinn, faculty at the School of Constructed Environments, the sustainable and celebratory installation comprises 600 discarded book pages and covers, steel and local flowers and ferns.
"It was so exciting, so extraordinary, so unbelievable chic and polite and so much more," said Laura Alexandra Suppan, a student of interior design from Vienna, Austria who is currently completing her MFA at Parsons. "We worked in the East Room. We worked in the East Room. Nothing more to say – unbelievable!"