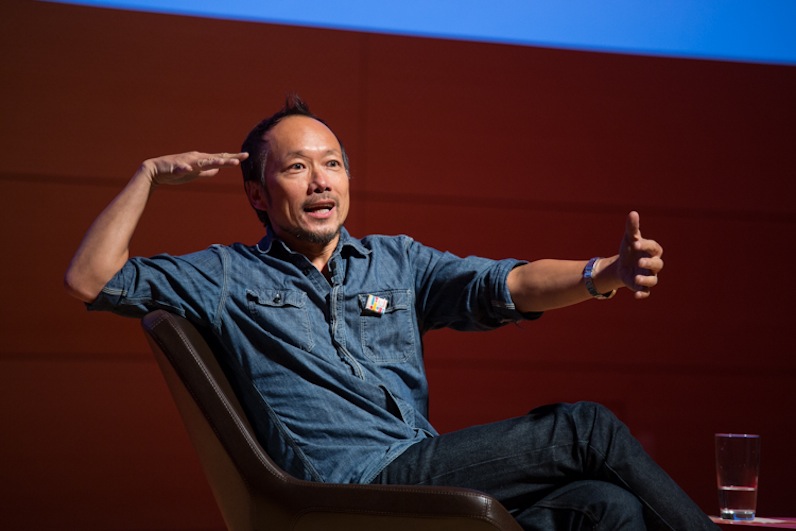 Stories Behind The Science: Google's Robert Wong, '90, Speaks At Parsons Reunion
Robert Wong isn't an engineer. He hasn't built any of the groundbreaking Internet products that people know and love.
Rather, Wong—the livewire Chief Creative Officer of Google Creative Lab, the search giant's in-house ad agency—is a storyteller; he writes the "fiction" behind the science.
One of Wong's most compelling "stories" is also one of Google's most popular commercials: a 53-second clip that shows a series of Google searches charting the history of an intercontinental Parisian romance.
"It's not enough that the technology is awesome—there should be a great story about why we love it and how it fits into our lives," Wong, a Parsons The New School for Design graduate, told his fellow alumni during Parsons Reunion Saturday. "And if that story is compelling enough, people will want the technology—they'll want to build it and they'll want to use it."
Held at the John L. Tishman Auditorium in the New School's University Center, Parsons Reunion 2014 brought hundreds of Parsons alumni together to reconnect, network and share their successes with fellow graduates. Many of the designers in attendance have gone on to become leaders in their fields.
One of those leaders is Wong, who, in the years since completing his BFA in Communication Design from Parsons, has worked on marketing campaigns for some of the world's most beloved brands, including Apple, Harley-Davidson and Jack Daniel's; at Google, he's developed engaging campaigns that illustrate the way the company's products are woven into our lives.
Sitting down with Paul Goldberger, Joseph Urban Professor of Design at Parsons, Wong touched on how storytelling informs technological innovation, why the best products emerge from collaboration and what the future holds for the field of design.
"One thing I think about a lot is how to balance technology and humanity," said Wong, who joined Goldberger around the famed ubiquitous Parsons table. "How do you connect people with technology without letting them get too sucked in?"
Wong, who landed his job at Google Creative Lab in 2008, is guided by a human-centered approach to design. Asked by Goldberg about why "the (Google homepage) has so much empty space," Wong responded, "It's about getting out of the way of the audience."
"At Google, there's a deep ethos of defending the user," he added.
Wong also opened up about his own personal narrative. Beginning his career in accounting, he had every intention of meeting his family's expectations. However, his right brain ultimately took over his left one: After just three months, the aspiring designer quit his undergraduate program and ran off to New York City to attend Parsons.
Wong wasn't the reunion's only success story. Following the discussion, more than 80 Parsons alumni showcased their work in an exhibition at the Sheila C. Johnson Design Center, located across the street from the University Center on Fifth Avenue. Among the exhibitors were Kay Unger (BFA, Fashion Design 1968), the former creative head of Phoebe Company and one and of the country's leading formalwear designers; Ji Lee (BFA Communication Design 1996), the creative director of Facebook, founder of Please Enjoy and one of Fast Company's "50 Most Influential Designers in America"; and Christopher Roth (BFA, Illustration 2002), a co-founder of The Other House who with four other alumni collaborators, recently spearheaded a design campaign for Sean "Diddy" Combs' Revolt TV network.
In addition, current Parsons students who participated in First Lady Michelle Obama's first-ever Fashion Education Workshop at the White House received a standing ovation for their efforts to create an installation in the building's East Room.
"What an amazing opportunity for such an amazing group of students," Joel Towers, the Executive Dean of Parsons The New School For Design, said.
Carlos Pion (BFA Communications Design '98), who shared his sleek brand campaign for Everything But Water in the alumni exhibition, reflected on "how wonderful" it was to return to his alma mater and "how important this institution is to all of us." When it comes to design, Pion said he and Wong are cut from the same philosophical cloth.
"The purpose of design is to solve problems," he said. "Design can be beautiful, but at the end of the day, there's a consumer that wants to see results, to have a product that resonates with them. Robert understands this."
Standing at the intersection of art and technology, Wong has seen the impact of storytelling both on the way a product is designed and how it's marketed to consumers. It's not only about the science, he insists, but about the "fiction behind the science."
"When I graduated from art school, I never could have imagined, that one day, I'd be working with amazing storytellers and brilliant engineers to fundamentally shape the future that my kids and my kids' kids might live in," Wong said. "If you're in the creative arts, don't underestimate the role you might play in helping to shape the future."