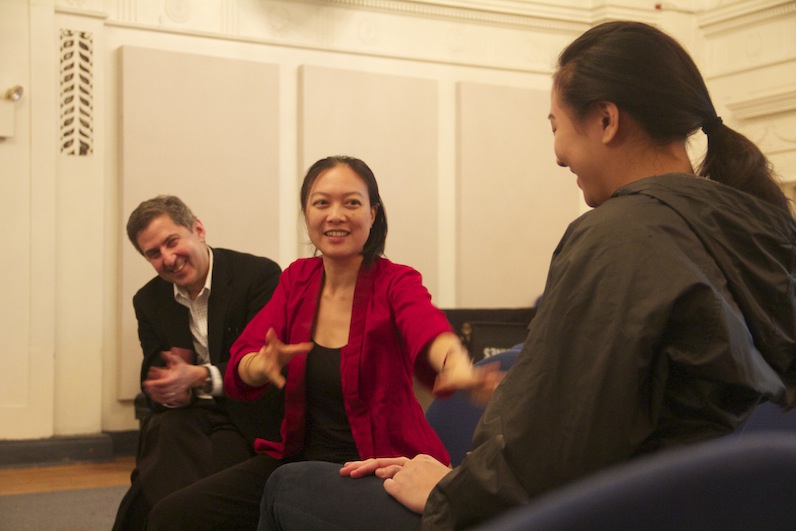 The Truth is the Sound: Jen Shyu at Mannes' Stone Workshops
The cellist looked a little perturbed – she wasn't used to singing. But encouraged by visiting artist Jen Shyu and the nine other Mannes College students present, she opened her mouth and quietly sang a note.
"Louder," said Shyu.  "Don't worry about being wrong – [ctt tweet="if you're wrong, be strong and wrong." http://ctt.ec/a7bvx+" coverup="a7bvx"]
Built on clapping and singing improvised tones, Shyu's drill was music stripped to its basic elements, but far outside the realm of a traditional conservatory training session – which was exactly the point.
Shyu's October 21 visit to Mannes was part of the college's Stone Workshops, a series of half-day residencies welcoming avant-garde musicians across genres. Curated by celebrated composer and musician John Zorn, the Stone Workshops reflect the century-old music school's innovative curricular approach, designed to provide students with an in-depth, hands-on experience with sounds and artistic practice as diverse and challenging as New York City itself.
Along with leading musical exercises, Shyu shared the story of her musical development. Starting as a teenaged jazz singer outside of Peoria, Illinois, she went on to train in opera at Stanford.  After she graduated, Shyu found her way across the bay to join San Francisco's jazz scene and began to experiment with traditional music from her parents' homeland of Taiwan. A few years down the road, the saxophonist Steve Coleman, with whom she continues to collaborate, urged her to travel to Taiwan to further research the music.
"Go to Taiwan!" she said Coleman told her.  "You could get hit by a bus tomorrow, and then what will you have done?"
Shyu's resulting performance pieces and compositions are a vibrant reflection of her classical, jazz, and Taiwanese musical training, as well as further travels throughout East Asia and the Pacific Rim.
Shyu's audience at the Stone Workshop at Mannes had similarly varied aspirations. When she asked where they saw their careers after graduation, students responded with a wide range of answers, from "singing at the Met" to "doing something totally new, creating music that young people really want to listen to."
[ctt tweet="Whatever their paths, Shyu left the Mannes students with this inspiration: "The truth," she said, "Is the sound." " coverup="o212_"]