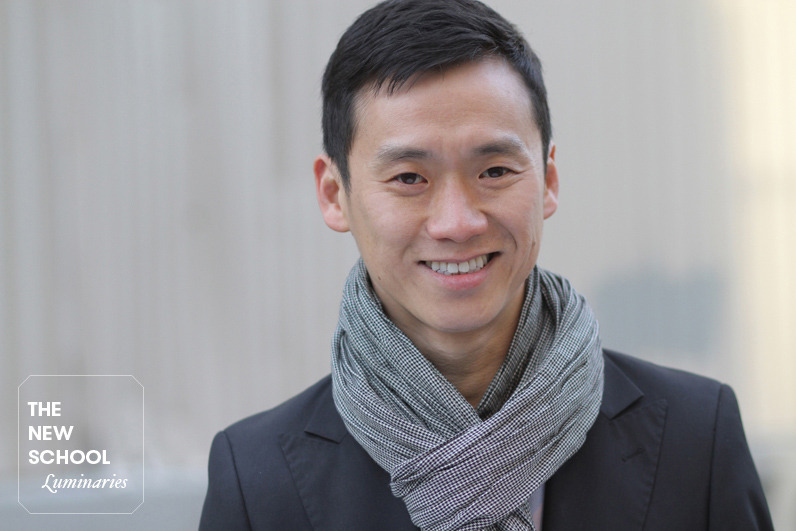 The Art of Communication Design
Passion: The quality distinguishes current Parsons The New School for Design students as well as alumni like Ji Lee (BFA Communication Design '95). As a creative lead for The Creative Shop at Facebook, Lee is responsible for helping some of the world's biggest brands (think Lay's, Oreo, and Pepsi) build socially designed marketing strategies that tell compelling stories through the social networking giant. Aside from working on creative strategy at Facebook, Lee, a former creative director for Google Creative Lab, boasts an artistic repertoire with personal projects equivalent in quantity and quality to his professional endeavors—many of which he began right here at The New School.
Born in South Korea, Lee moved to Brazil at the age of ten. After graduating from high school, he attended an art and design school in the heart of New York, which he calls "arguably, the most artistically vibrant city in the world." Parsons, of course. Lee studied fine arts in his first semester, then switched to communication design. which gave him opportunities to engage directly with the broader public . "I believe ideas are nothing, doing is everything," states Lee on his website, pleaseenjoy.com—proof that his dedication to a hands-on approach to design is alive and well today.
[ctt tweet="It was during his time at Parsons that Lee also developed a passion for personal projects." coverup="3Bvg4″] One of his most famous works, Word as Image, began as an assignment in the Communication Design department. Lee originally created it for Charles Nix's typography class, where students were tasked with arranging type to artistically visualize a word. Lee credits Nix with teaching him everything he knows about typography; he attributes his success as a communication designer to teachers at Parsons who, like Nix, transformed the way he thought about creativity, design, and art. Word as Image and another personal project, The Bubble Project, are two of Lee's best-known works, attracting considerable media attention and becoming the subject of two published books. They are also two of his favorites. "Because of personal projects," says Lee, "I was able to find my dream jobs and am able to continue fueling my passion for art and design."
Professionally, Lee is a creative force to be reckoned with. Aside from producing highly effective marketing strategies like Lay's "Do Us a Flavor" campaign, a contest in which thousands across the United States submitted their ideas for a new potato chip flavor via Facebook, Lee has also striven to make products more "human and magical" (as he puts it) through artistry and design. Two campaigns Lee completed while working as the creative director for Droga5 were a guerrilla-style street art campaign for the New Museum, complete with a massive billboard takeover, and the U.S. Fund for UNICEF Tap Project, which promoted awareness of the world water crisis. Working at Facebook also helped Lee formulate the idea for one of his current projects: a simple online game based on social insights. Without revealing too much about the project, Lee notes that it centers on the way people engage and connect with one another through social networks.
Advice for current or prospective design students? "Focus on creating personal projects during your college years," he says. "With these projects, you can stay true to your passion and the art itself. Don't lose the fun or excitement of making things."
For more information about Parsons The New School for Design, visit www.newschool.edu/parsons.