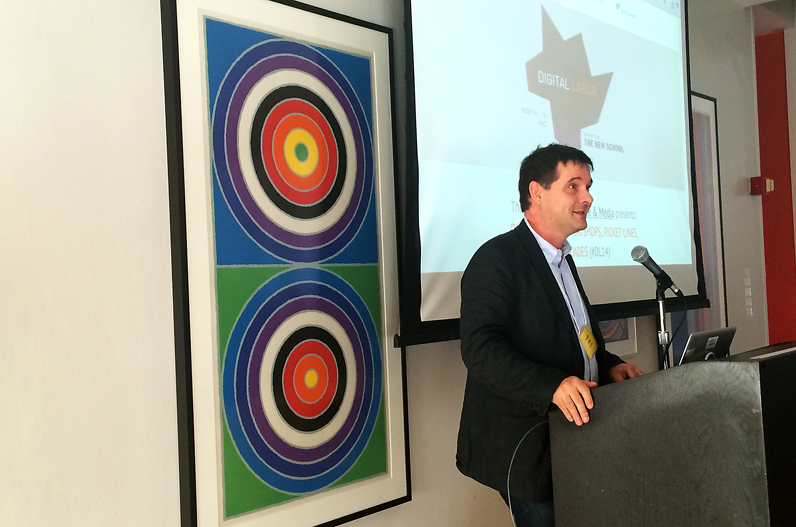 Digital Labor Conference
"To start off, please note that decadent three-layer chocolate cake and platters of charcuterie will not be offered at this conference," said Trebor Scholz, setting the tone for a three-day conference examining the loss of workers' rights in the age of technological innovation.
What the conference lacked in culinary delights, though, it made up for in transformative discussions on pressing social and economic issues.
Now in its second year, "Digital Labor: Sweatshops, Picket Lines, Barricades" challenged participants to examine the effects of advances in digitization in relation to shrinking workers' rights, the decline of unions, and the shift from permanent employment to freelancing and contract work. In nearly 50 panel discussions, media scholars, social entrepreneurs, artists, digital workers, legal scholars, designers, and historians addressed the issue, proposing new forms of mutual aid and solidarity.
The need for such solutions has become increasingly urgent, panelists said. According to the U.S. Department of Labor, roughly 30 percent of Americans perform contingent labor—work that includes freelance, contract, or other temporary employment. Panelists acknowledged that in some cases, contingent work is mutually advantageous: Individuals benefit from flexible schedules and the ability to diversify their careers; companies benefit from increased efficiencies and a robust talent pool. However, panelists also observed that the increase in [ctt tweet="technological innovation has prompted a scaling back of many of the rights workers fought for during the 20th century" coverup="3e9fU"]—such as the eight-hour workday, employer-provided health insurance, child labor laws, and overtime pay.
Over the last 25 years, developed economies have undergone an exponential increase in productivity with the help of technology. However, Scholz said, improved productivity hasn't resulted in a corresponding increase in compensation. Economic inequality, he added, has risen dramatically.
"We are hoping to answer the question: What can workers do to protect themselves in light of all these challenges?" said Scholz.
Answers surfaced throughout the weekend as participants discussed topics ranging from digital labor and sex work to the Occupy movement and the implications of the 24/7 labor economy. Held on Sunday, the first-ever Hackathon for Digital Workers brought together computer scientists, digital activists, and students to build tools to help workers organize and connect.
In "Death of Employment, Long Live Worker Rights," a panel discussion held on Saturday, journalist and author Nathan Schneider discussed reclaiming the vision of labor espoused by the Puritans—a vision that is at the core of fundamental American values.
"Up until 25 years ago, the general consensus was if you worked hard, you could work at the same place your entire life," Schneider said. "It was a business model of the time."
To learn more about Digital Labor and see video testimonials from panelists, visit the Digital Labor website.