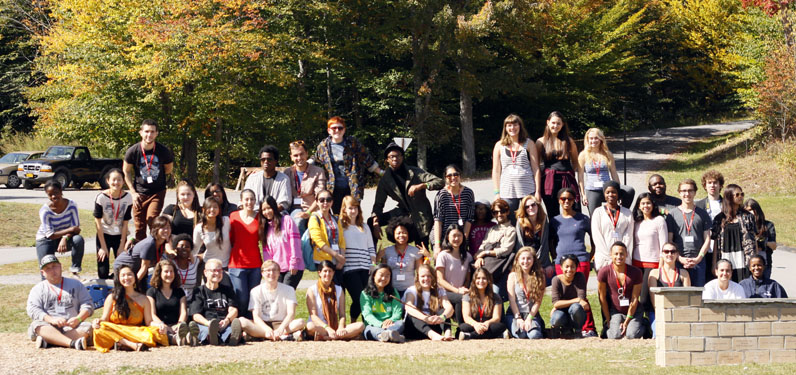 Fourth Annual Leading for Social Change Retreat
Developing skills and resources to bring back to The New School community was one of the main goals of the 50 student leaders who came together earlier this semester for the fourth annual Leading for Social Change Retreat at Frost Valley YMCA Camp in Claryville, New York.
Through activities ranging from ropes courses to workshops to hikes, the students, including resident advisers, peer health advocates, student org leaders, hall council members, and student senators, dove into a weekend of leadership training, social justice discourse, personal reflection, and teambuilding.
 and activities facilitated by students, alumni, and staff from the Office of Student Development Activities and Student Health Services emphasized a social justice leadership framework that the student leaders will be able to use for organizing and building communities at The New School. Workshops covered both practical training, such as programming and marketing, as well as exercises in personal reflection and team building.
Topics included resource mapping, an introduction to the social change leadership model at The New School, active listening, and more. In a self-care workshop, led by Alia Sanfilippo (BA/BFA Jazz/Lang; Peer Health Advocate) and Ashley Thomas (MA International Affairs; Peer Health Advocate), participants were encouraged to reflect on their busiest day of a typical week as they lay on the grass, looking up at the trees. Jill Anderson (BA Literary Studies; member of the Food Community student organization) recounts her experience: "Everyone opens their eyes. They describe their busy days with their heavy bags and how they neglected themselves. Resting under the trees, your life seems like a foreign world—why were you ignoring your need for self-care? The times when you ignored your better instincts seem so strange. A new resolution forms in your mind, 'I need to care for me, too.'"
Retreat activities approached social issues from a variety of entry points to facilitate discussion and new ways of thinking. The Privilege Walk, led by Ashley Thomas and Josh Gwynn (MS Media Management; Peer Health Advocate), asked participants to step forward or backward in response to questions of privilege in order to highlight the effect of privilege on accomplishment. Sarah Giffin (2014 Lang graduate; former Peer Health Advocate, Lang Civic Engagement and Social Justice Fellow, and Social Justice Ally) led the group in games based on those created for the Theater of the Oppressed to explore the dynamics of oppression.
The relationships that blossomed over s'mores and hayrides were an equally successful outcome of the retreat. A number of discussions led to new ideas for collaboration, such as the new Social Justice Hub meeting group, which will bring together students from various divisions to discuss some of the ways the space can best serve the student population.
The weekend of fun, thoughtful discussions and learning concluded with a reflection on the lessons learned and how participants planned to apply them on campus. All agreed that they would incorporate their new skills, knowledge, and awareness into their own lives as well as share them with others to maintain the spirit of the retreat and extend its positive outcomes.