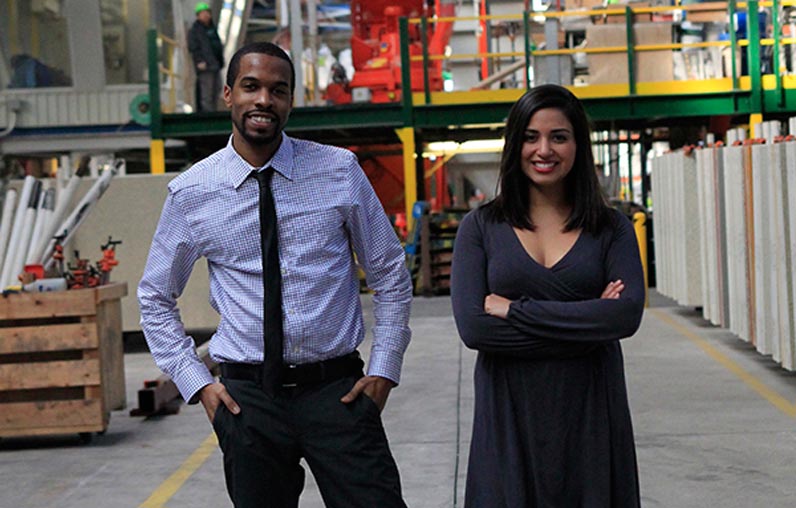 An Integrated Future for Design and Manufacturing
Long distance relationships can be tricky—especially when it comes to small businesses and their overseas manufacturers.
Just ask Matthew Burnett. Starting his own line of watches in 2009, he struggled with lengthy turnarounds, language barriers and continuous manufacturing errors that were major hurdles for his business.
"Overseas manufacturers aren't laying out a red carpet for small businesses," Burnett said to a room full of industry insiders and design students, faculty, and members of The New School community celebrating the launch of Parsons' new MFA in Industrial Design program. "I wanted a close relationship to my supply chain."
So for his next venture, Burnett turned to the local yellow pages. He started a line of leather goods using domestic manufacturers in order to maintain control over the quality of production and form closer partnerships with the suppliers and contractors.
"It made a world of difference," Burnett said. "I got my leather from Queens. I got my hardware from the Bronx. The quality control I had was amazing—I could monitor production all throughout the year."
Burnett's experience speaks to a shift toward localized urban manufacturing—A trend driven both by a growing desire for greater transparency of the production development cycle and a heightened awareness of issues around sustainability, labor practices, and economic inequity.
That shift was the focus of "Product City: Shortening the Supply Chain," a series of presentations by and conversations with Burnett and Tanya Menendez, founders of Makers Row; Stephanie Schacht, head of responsible growth at Etsy; Rama Chorpash, director of Product Design at Parsons The New School for Design; and Victoria Hattam, professor of Politics at The New School for Social Research.
"Everyone here is interested in the implications of making in cities and communities of making," Chorpash said during the discussion, which was held in the Glass Corner at the Parsons East Building last Thursday.
"Product City" served as a celebration of the launch of Parsons' new MFA in Industrial Design, a 60-credit degree program that gives students the opportunity to employ advanced making skills and critical inquiry to design products at various scales of production, from low- to high-volume, and from desktop manufacturing to global supply chains. Chorpash, the creator of the MFA program, said the curriculum will push designers to consider their "accountability" in those supply chains.
"Students will have the opportunity to design not only products and services but the industries that shape them," he said.
Two such entrepreneurs, Burnett and Menendez, provided a model for students and faculty at Thursday's event. In 2011, the duo founded Makers Row, an online factory sourcing service that connects product-based businesses with manufacturers, contractors, and suppliers in the United States. It's like the Yellow Pages that Burnett used to flip through, but a lot more comprehensive.
The idea was born in 2011, when Burnett, who previously worked with Marc Jacobs, DKNY, and Diesel before launching his own series of startups, met Menendez, a project consultant at Goldman Sachs. Inspired by Burnett's experience seeking out domestic factories—and by Dominos' online Pizza Tracker (more on that in a minute)—the duo devised a plan to compile information on U.S. factories, many of whom lacked an advertising presence, onto a single website.
"There was Shopify, Squarespace, Magento Go; all these crowd funding campaigns were popping up," Menendez said, recalling the emergence of Web-based resources for small business in the mid 2000s. "The hardest part was finding factories."
Makers Row was established to meet that need. What's more—and here's where the inspiration from Dominos comes in—the website displays every stage of the production development cycle, from basic concept to product in hand.
"When you go to Dominos website to order a pizza, they show you all the stages of production," Burnett said. "I thought manufacturing could be that simple. Access to the supply chain could be that simple and visible."
Although Makers Row members are keeping their supply chain local, Esty members are taking that idea one step further—by confining their supply chain to their kitchen tables. Launched in 2005, Etsy provides a platform for independent designers, many of whom work from home workshops and studios, to sell their handmade or vintage items and supplies online.
Over the past year, however, Etsy has allowed its members to sell factory-manufactured items on its site, too. But there's a catch: Outside partners (cut-and-sew shops or digital printing houses, for example) with whom designers choose to work must adhere to strict guidelines regarding labor practices and sustainability.
"There's a deep connection with the partner the designers are working with," Schacht said.
Makers Row and Etsy serve different purposes to different designers, but both start-ups share a mission to integrate design and manufacturing. Ultimately, Chorpash said, it is through the synergy of these two traditionally isolated entities that students can "create a better future."
"As we enter a 'Third Industrial Revolution,'" he said, "The MFA Industrial Design program will enable consumers to collaborate in the creation of better products, and shorten the supply chain between design, production, and consumption."
<