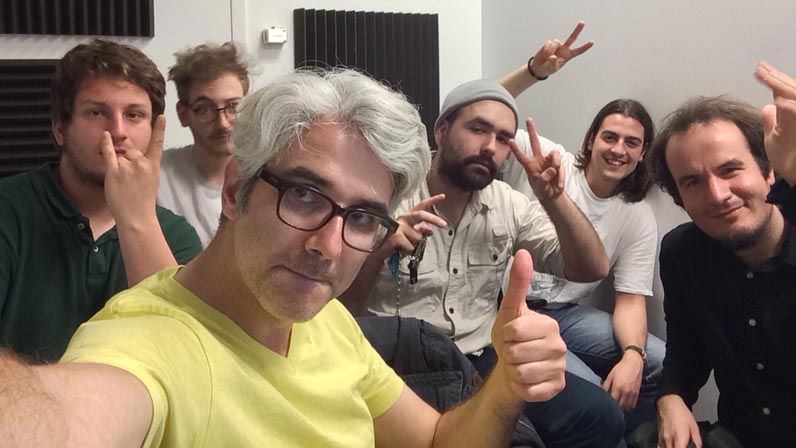 Hacking Into Creative Potential, Jazz Students Produce New Song in Seven Hours
The musicians took their places, adjusted their instruments, and fired up their recording equipment.
Everything was in place for the group's recording session at The New School for Jazz and Contemporary Music. There was just one problem: They had no idea what to play.
"We were staring at a blank canvas," Tomás Cabezón, the group's keyboard player, recalls.
As if starting from scratch weren't hard enough, they were also working against the clock: The musicians had to compose, arrange, record, and produce a song—not a jam session, but an original song—in just seven hours.
But that was all part of the test of the first-ever Jazz Hackathon at New School Jazz. The brainchild of Alexis Cuadrado, who leads the New Student Technology Seminar, the activity challenges students to use the producing and technology skills learned in class to complete an original song in the span of an average workday. Think of it as the Project Runway of music making.
The pressure was on as Cabezón (keyboard and MIDI instruments), Christophe Assier (guitar), Ian Levy (sax), Sean Steele (vocals), and Teodor Vandoski (drums) gathered at the New School Jazz recording studio late last semester. Decisions had to be made—quickly. There wasn't always time, as Cuadrado says, "to go back and hit 'Undo.'" But by the time the last note had rung out, a piece of music—imaginative, beautiful, maybe a little messy—had materialized.
"Working under severe time pressure brought out the best of this group of talented and enthusiastic musicians and made our first Hackathon a wonderful experience," Cuadrado says. "I am so proud that this all translated so beautifully into the final track."
Despite being the product of a frantic, deadline-driven afternoon, "A Love Song" comes off cool and composed, like the calm after an electrical storm. Clocking in at around four minutes, the track rides a breezy groove punctuated by cosmic flourishes of guitar and sax and laced with lyrics from a poem by the late Canadian writer Duncan Campbell Scott.
"A Love Song" is the product of what Assier calls a democratic approach: All five students had a say in both the composition of the piece (melodies and arrangements) and the production process (recording, editing, mixing, and mastering).
"It was great to see everyone's ideas converge into one single strong piece of music," Assier says. "It's the result of hours of give-and-take."
It's also the result of working in a pressure-cooker environment—one that simulated a real-life professional recording session and its demands for a lightning-fast turnaround.
"The rushed timetable really put into perspective how things would generally work on a high-profile session, where everything has to be recorded as fast as possible but still sound good," Vandoski says. "I learned a ton about the entire process between the initial ideas and set-up, tracking, editing, and mastering one track."
The Jazz Hackathon serves as a test drive for students in the New Student Technology Seminar. Held once a semester, the seminar is a series of weekly meetings introduces freshmen to music technology software—from music production to notation to mixed media—that will be integral to their musical careers.
Hoping to impart lessons about teamwork and time management, Cuadrado plans to host the Jazz Hackathon again this semester. He asked Cabezón, now in his second semester at The New School, if he had any advice for the next class of would-be "hackers."
Says Cabezón, "It wasn't easy, and at times our goal seemed impossible. One has to remember that six hours is not a lot of time when we're talking about a musical odyssey like the Hackathon. My advice: Wear comfortable clothes, stay hydrated, share ideas, and leave your egos at home!"