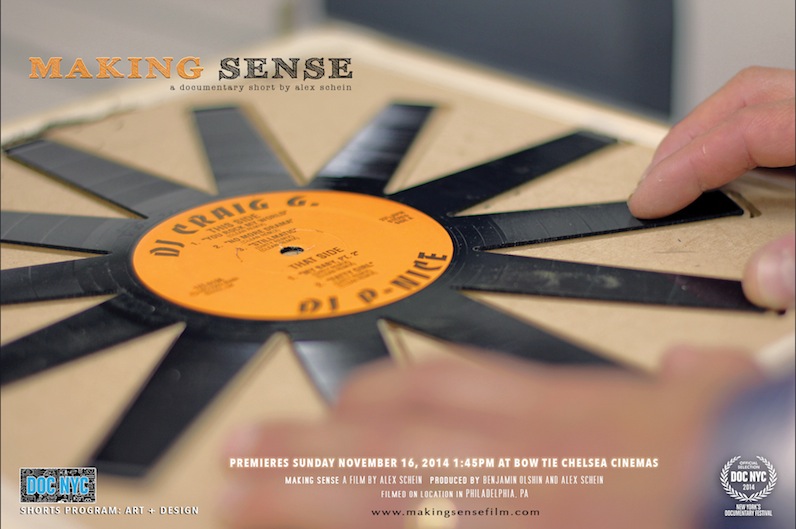 Making Sense, Making Waves: New School Filmmakers at DOC NYC
This weekend, DOC NYC kicks off its fourth season. Over the next eight days, the country's largest documentary festival will host over 130 films and events in Chelsea and Greenwich Village. This includes an assortment of films from New School storytellers.
Making Sense by current School of Media Studies (SMS) student Alex Schein, will premiere during the Art + Design short program. The 13-minute piece examines the micro-manufacturing movement, or "maker culture" of Philadelphia, a city once known as the "Workshop of the World."
Schein's initial interest in the topic developed in part while researching a project for SMS dean, Anne Balsamo. Schein's late grandfather's work also inspired the film. The New York City crane operator used to tell the future filmmaker how rewarding it was to point to a building with the ability to say, "I made that."
Schein directed, filmed, and edited Making Sense as part of Deanna Kamiel's "Directing Documentary" class this past spring. He told the New_S he "was able to work in an intensely creative and critical incubator while in class." Schein credits faculty and classmates for their feedback as well. "Although this was a solo project, I definitely didn't produce this piece alone," he said.
Recently, Schein began to work on a companion website to further explore some of the themes introduced in his film. He hopes to incorporate both in a larger multi-media project. He will complete his graduate coursework this semester.
Be sure to catch Making Sense as well as the following New School alumni films at the 2014 DOC NYC festival:
Hang Up by Hugo Massa (Cert. Documentary Studies '14)
This short follows two men as they capture the last moments of the once ubiquitous New York City payphone. Hang Up will screen during the Lost + Found short program.

Vessel by Diana Whitten (MA International Affairs '09)
The feature profiles Rebecca Gomperts, a Dutch physician who helps women overcome restrictive reproductive rights laws by providing them access to safe abortion and contraceptive services aboard a ship that traverses international waters. In August, the New York Times Magazine highlighted Gomperts' work and clips from Whitten's film.

Citizen Four by Laura Poitras (BA Liberal Studies '96)
In this highly anticipated release, Poitras reveals how she and collaborator Alex Greenwald received and ultimately decided to publish secret NSA documents from whistleblower Edward Snowden. In addition to DOC NYC, Citizen Four is playing at IFC Center.
Check out the DOC NYC website, for a complete screening schedule.