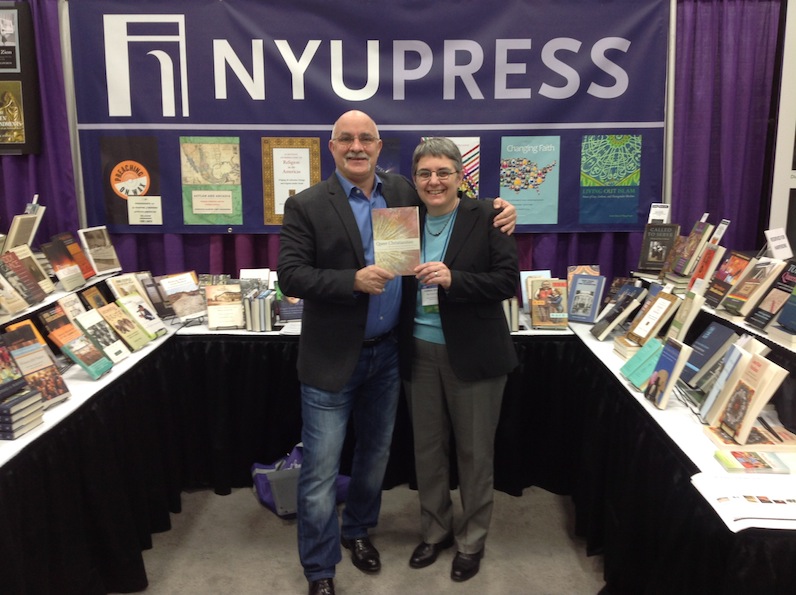 Michael Pettinger Talks Queer Christianities
This month, NYU Press published Queer Christianities: Lived Religion in Transgressive Forms, a book of essays exploring the intersection of sexuality and belief. Eugene Lang College's Michael Pettinger, assistant professor of literature and religious studies, and Mark Larrimore, associate professor of religious studies, co-edited the book with Kathleen T. Talvacchia, an associate dean at the New York University Graduate School of Arts and Science.
The book expands the discussion first raised at the Queer Christianities conferences that Lang's religious studies program hosted in 2012 and 2013. In anticipation of next month's book launch party, Pettinger sat down with the New_S to discuss how the conferences and the book came to life. The following is a condensed and edited version of his account.
---
Origin of the Story 
"Mark Larrimore and I kept noticing that in discussion, people basically assumed that there was a split between people of faith who are heterosexual, and queer people, who of course are secular. As one of the two full-time people in the religious department and a gay man who's active in the church, I wanted to say 'wait, that doesn't make any sense. That's not the way it is.' Mark realized this was an opportunity for education. And that's really where the idea for the Queer Christianities conference started. We met Kathy shortly after. She has a PhD in practical theology and she was looking for an opportunity to step out of her role as an administrator and really engage with the topic academically again. It turned into the most satisfying collaboration I've ever had."
Destiny
[ctt tweet=""Religious studies is kind of a queer discipline, if it's done right." coverup="eP5d9″] I think it resists this tiny secular religious boundary that we construct largely in order to avoid uncomfortable conversations, rather than doing what academics are supposed to do, which is relish in uncomfortable conversations.
"I wrote a chapter in an attempt to provide a thick description of my experience as a gay man who grew up in a very catholic family, left the church for 15 years, and found himself returning in part, strangely enough because I was teaching at The New School. It was a bit of an accident that got me into religious studies, but if there are no accidents, then it feels like this has been the fulfillment of something that was supposed to happen anyway."
Creating Discomfort
"Early on we realized [ctt tweet="we wanted to create a book where nobody would walk away feeling completely happy about what they'd read." coverup="q1aCv"] We wanted to make sure there was something there to trouble everybody. And I think we succeeded. In the process of editing, I had to expand certain parts of my own thinking, and I think Kathy and Mark did as well."
Lessons
"Periodically, I teach a course titled "Sex and Theology." It won't be taught again until the spring of 2016, most likely, but I've already tried to restructure the syllabus to look a little bit more like the book. I'm eager to see what happens when you take this book and put it in front of students.
"I think what I like about it as a textbook, is that it has structure, but it resists any sort of easy resolutions. Queerness as it is, tends to resist any easy systemization. I think we created conversations that never perfectly resolve, that keep generating further conversations."
Looking Forward
"The final section is called "Forward!" The idea is one does not want this conversation to stop. And the question becomes where will the conversation go next. Queerness still has a risk of being white, western, and affluent. What's in this book for same-sex loving people or gender non-conforming individuals, who live in non-western cultures? And what do they offer us that we aren't learning? Ultimately, since today's youth have come up in a generation where LGBT issues are almost normalized, it's up to them where we go from here. So the next trick is finding a way to open up the conversation for those voices."
---
The Queer Christianities Book Launch will take place at 6pm on Monday, December 3 in Arnhold Hall's Dorothy Hirshon Suite (55 West 13th Street), following the Religious Studies Fall Roundtable.