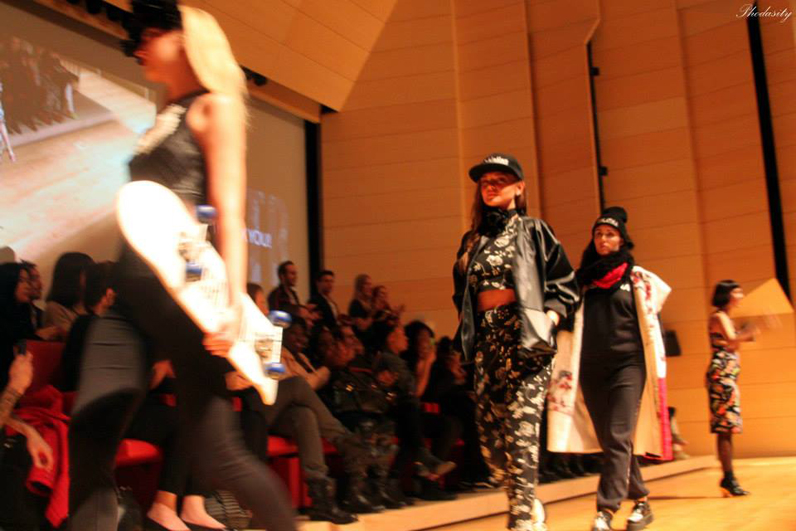 Sisters on the Runway: A Charity Fashion Show
Cameras flashed as models walked the University Center catwalk wearing the latest collections by Parsons students and alumni during last month's Sisters on the Runway Charity Fashion Show.
A nation-wide and student run organization, The New School student chapter of Sisters on the Runway hosts the annual fashion show to raise money for domestic violence shelters in New York City. Now in its tenth year, the 2014 show raised $4,200 for Safe Horizon, the largest victims' service agency in the United States. Safe Horizon helps more than 250,000 children, adults, and families affected by crime and abuse throughout New York City each year.
Hosted over the course of two days, the collections featured in the show incorporated innovative styles with influences ranging from Bohemian with an Indian twist to contemporary pop art. Though each collection was very different from the next, every designer had a definitive style and cohesiveness among their looks.
The designers featured on Friday, October 24 included those by Michelle Christina Larsen, Anna Hammam, Alexis Walsh, Sue Yim and Yen Mak, Ping Pong, Rebecca Rivera, Daniel Natale, Sarah Lawrence, Cara Devoe, Hyunju Park, and Min Kwon and Leehan. On Saturday, collections by Yvonne Jewnell, Brittany Williams, Helen Zhang, Amy Behl and Ragne Ortiz, Karen de Freitas, Carly Elizabeth McDougald, Michelle Christina Larsen, Ping Pong, Min Kwon and Leehan, Daniel Natale, Cara Devoe, and Rebecca Rivera were showcased.
Hosting an eclectic, fun fashion show is the main goal of Sisters on the Runway, but raising awareness and funds to support victims of domestic violence remains at the heart of the events. This year's shows were a huge success, with over 225 guests in attendance each night, raising a significant amount of money that Safe Horizon will use to assist victims in need.
Sisters on the Runway is run solely by students and has seven branches across the nation. Members draw from their shared love of fashion to create something bigger that, in turn, helps victims of domestic violence and other crimes. Parsons students Blair Morgan Reeves and Elizabeth Olear organized this year's charity fashion show, with the help of twenty student volunteers.
This story was contributed by Sadie Bell, a student at Eugene Lang College The New School for Liberal Arts.