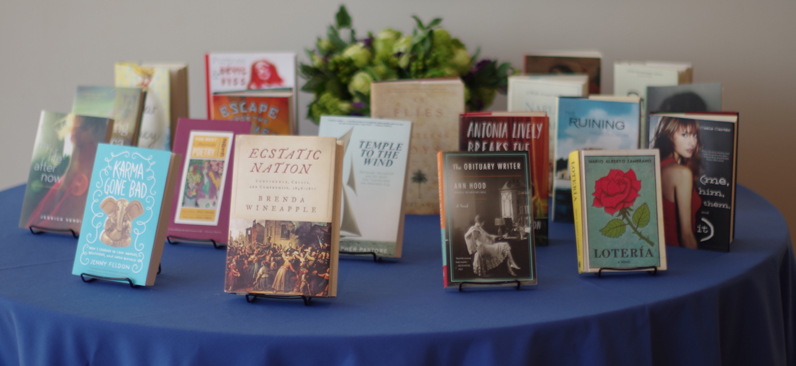 2014 Alumni and Faculty Book Publications
Writing at The New School alumni and faculty have had another incredible year of publication. By our preliminary count, 33 MFA and Riggio: Writing & Democracy alumni and students published 37 books with publishing houses big and small, including full-length poetry collections, novels and novellas, short story collections, books for young adult and middle-grade readers, as well as anthologies and critical studies. Additionally, 11 faculty members in our graduate and undergraduate programs published new books this year. Even more impressively, many of these books have been included in numerous "Best Books of 2014" lists from critics at the New York Times, NPR, Publisher's Weekly, Kirkus Reviews, and many more. We will continue to add to this list as we hear of more publications, but for now we are proud to share the list:
MFA Alumni
Lisa Marie Basile ('12), Apocryphal, Noctuary Press

Christopher Beha ('06), Arts & Entertainments, Ecco

Mark Bibbins ('98), They Don't Kill You Because They're Hungry, They Kill You Because They're Full, Copper Canyon Press

Selene Castrovilla ('06), Melt, Last Syllable Books

Christine Chia ('15), Separation: A History, Ethos Books
Kitsy Clare aka Catherine Stine ('03), Model Position, Inkspell Publishing
Julia Cohen ('08), I Was Not Born, Noemi Press
Amy Ewing ('12), The Jewel, HarperTeen
Lisa Graff ('06), Absolutely Almost, Penguin Young Readers Group
Brian Gresko ('09), When I First Held You: 22 Critically Acclaimed Writers Talk About the Triumphs, Challenges, and Transformative Experience of Fatherhood, Penguin Group
Anne Heltzel as Avery Hastings ('08), Feuds, St. Martin's Press
Mira Jacob ('03), The Sleepwalker's Guide to Dancing, Random House
Adam Klein ('09), The Medicine Burns and Tiny Ladies, Dzanc Books rEprint Series
Winston Len ('12), House of Secrets: A Bletchley Park Novella and Hack: Moscow, Amazon
Sara Lippmann ('02), Doll Palace, Dock Street Press
Gianmarc Manzione ('04), Pin Action: Small-Time Gangsters, High-Stakes Gambling, and the Teenage Hustler Who Became a Bowling Champion, Pegasus Books
Justin Marks ('04), You're Going to Miss Me When You're Bored, Barrelhouse Books
Patricia McCormick ('99), I Am Malala, Little, Brown Books for Young Readers
Roberto Montes ('13), I Don't Know Do You, Ampersand Books
Christopher Pastore ('03), Between Land and Sea: The Atlantic Coast and the Transformation of New England, Harvard University Press
Allison Power (Editor) ('11), New York School Painters & Poets: Neon in Daylight, Rizzoli
David Pratt ('01), Looking After Joey, Wilde City Press
Greg Santos ('09), Rabbit Punch!, DC Books
Samantha Schnee (Translator) ('05), Texas: The Great Theft by Carmen Boullosa, Deep Vellum Publishing
Rebecca Serle ('09), Famous in Love, Poppy/Little Brown; The Edge of Falling, Simon Pulse
Soraya Shalforoosh ('99), This Version of Earth, Barrow Street Press
Paige Taggart ('08), Or Replica, Brooklyn Arts Press; Want for Lion; Trembling Pillow Press
Justin Taylor ('07), Flings, Harper
Amira Thoron ('04), For My Father: Poems, Pleasure Boat Studio
Andrew James Weatherhead ('13), Cats and Dogs, Scrambler Books
Rachel Zolf ('11), Janey's Arcadia, Coach House Books

Riggio: Writing & Democracy Alumni
Marisa Frasca ('12), Via Incanto: Poems from the Dark Room, Bordighera Press
Patrick Hipp ('12), All the World is Lost, Wheelhouse Books

Writing at The New School Faculty
Jeffery Renard Allen, Song of the Shank, Graywolf Press
Mark Bibbins, They Don't Kill You Because They're Hungry, They Kill You Because They're Full, Copper Canyon Press
Elizabeth Gaffney, When the World Was Young, Random House
David Lehman, Best American Poetry 2014, Scribner
Greil Marcus, The History of Rock 'n' Roll in Ten Songs, Yale University Press
Ariel Schrag, Adam, Mariner Books
Susan Shapiro, The Bosnia List, Penguin
Darcey Steinke, Sister Golden Hair, Tin House Books
Rene Steinke, Friendswood, Riverhead
Lynne Tillman, What Would Lynne Tillman Do?, Red Lemonade
Tiphanie Yanique, Land of Love & Drowning, Riverhead
This post originally appeared on the Writing at The New School blog.