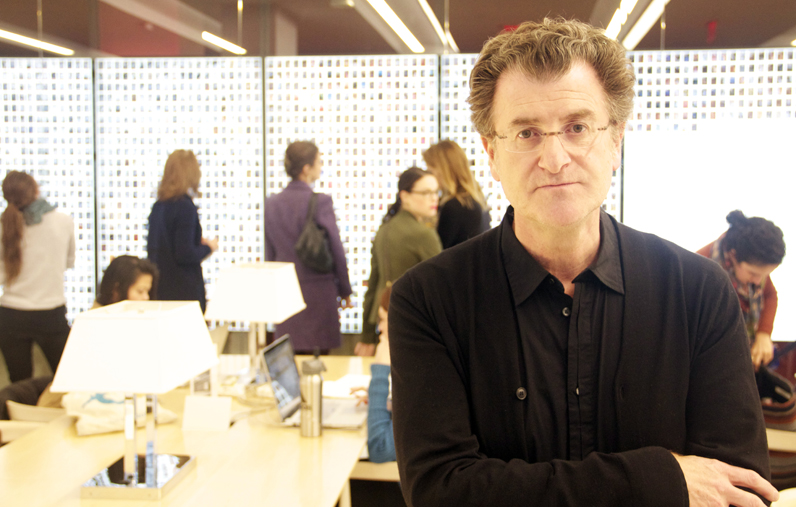 Alfredo Jaar's 'Searching for Africa in LIFE' Unveiled at The New School
When publisher Henry Luce acquired LIFE Magazine in 1936, he issued a bold mission statement: "To see life; to see the world; to eyewitness great events…"
Over the course of its colorful existence, LIFE largely fulfilled that goal, providing millions of readers unprecedented visual access to what Luce called "Strange things—machines, armies, multitudes, shadows in the jungle and on the moon."
However, as Alfredo Jaar reveals in his new site-specific commission for The New School, the world's second largest continent, Africa, is largely absent from the publication's Earth-spanning content.
"Throughout the magazine's 60 year circulation, there were only a handful of covers depicting Africa," the artist said during an unveiling of the piece, Searching for Africa in LIFE, at the New School's University Center. "And those depictions are painful stereotypes which ignored a vast continent's cultural richness and racial diversity."
Now on permanent view in the University Center's Arnhold Forum Seventh Floor Reading Room, Searching for Africa in LIFE is a collection of 2,128 covers of the all-photographic news magazine between 1936 and 1996 illuminated by a massive lightbox. Looking back on 60 years of LIFE covers, it becomes clear that Africa—a continent of one billion-plus people featuring myriad cultural, religious, and historic treasures—was left out of the magazine's editorial picture.
LIFE was not operating in a vacuum, of course. As Jaar explained, Searching for Africa in LIFE reflects historical American attitudes about culture and race—"attitudes that continue to reverberate today."
Jarr's installation will add to the already robust works in The New School Art Collection. It includes site-specific pieces by Jose Clemente Orozco, Camilo Egas, Gonzalo Fonseca, Sol LeWitt, Dave Muller, Martin Puryear and Michael Van Valkenburgh, Brian Tolle and Kara Walker. Along with Alfredo Jaar's newly commissioned work, the University Center will include two other site-specific installations by Rita McBride and Glenn Ligon, which will be unveiled in the spring.
Praising Jaar's work, New School provost Tim Marshall called it "The embodiment of the New School philosophy of uniting art and social practice."
Jaar, who received an honorary doctorate from The New School in 2010, offered his gratitude to the university, describing the Arnhold Forum Seventh Floor Reading Room, "with all the books and knowledge surrounding us," as the "perfect setting" for his work.
"I'm honored," Jaar said. "Here, the piece will have a new life."