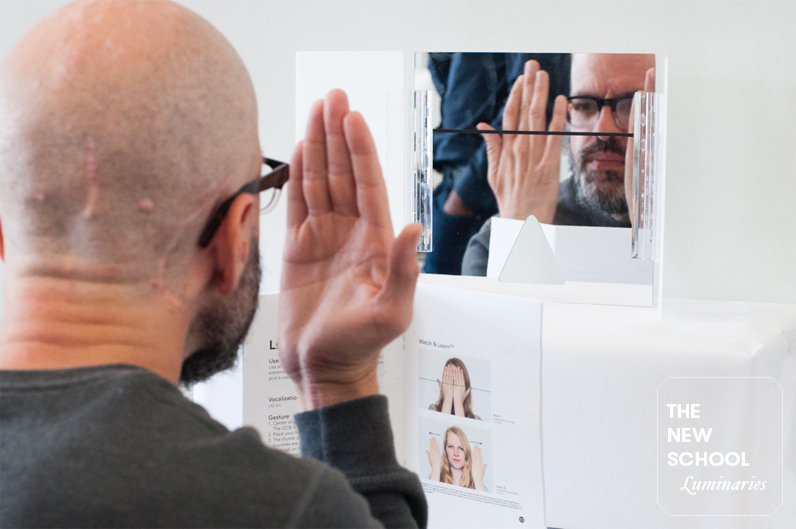 Breaking Barriers: Language and Public Space
When wheelchair-using individuals require access to an event space, "they're not often told to bring their own ramp," says Christopher Taylor Edwards.
So then, he wonders, why can't the same courtesy be extended to deaf people?
A design and digital strategist with a passion for advocacy, Edwards is working to address that issue—and the issue of language barriers in general—through design.
"I'm interested in the entire ecosystem of accessibility for the deaf," says Edwards, who researches the issue as a MFA Transdisciplinary Design student at Parsons The New School for Design. "How do we provide more 'ramps,' in the metaphorical sense? How do we make it so that deaf and hard of hearing people don't have to plan ahead to make sure an event or a class is accessible?"
Creating universally accessible spaces isn't the only way Edwards takes a stand on social inclusion. He has fought for immigration equality, LGBT rights, and justice reform, in both digital campaigns and in the streets.
"My urge for advocacy is really based on participation and social inclusion," he says. "From the time I was a kid, I've always felt a deep sense of unfairness whenever anyone was left out; it's just inherent in the way I see things. "
For Edwards, inclusion starts in the places where people gather and interact. He is particularly interested in spaces that facilitate "unplanned interactions"—the kinds of interactions, he says, that are "so important to innovation."
"The University Center was designed specifically to facilitate this kind of serendipity," he says, remarking on how the open spaces and sweeping staircases in the new academic hub create a perfect place to connect with people from all backgrounds.
But because of the way many spaces are designed, "some people are left out of these conversations," Edwards says. His goal is to get everyone talking. Edwards has explored several avenues of research, including service design solutions such as captions and translation services. At the same time, he is conducting experiments with both deaf and nondeaf students to survey "alternative strategies of communication."
"I'm doing experiments with [nondeaf] teams where I ask them to communicate without speaking for 45 minutes," he says. "Then I survey them to find out what communication strategies emerged."
Next he asks deaf students to work on a diary of their daily interactions; he uses the information to devise new forms of communication, which can then be used in everyday contexts.
"What I've found is that deaf students employ so many different strategies for communication that if you ask them, 'How do you communicate?' they can't give you a simple answer," Edwards says. "So I'm trying out different ways to elicit that information."
Edwards draws on a wealth of professional and volunteer experience in the pursuit of his thesis work. Before attending The New School, he was the digital strategy manager for Immigration Equality, a nonprofit organization addressing immigration and LGBT rights. At the university, he was the design facilitator for Photography Expanded: Second Annual Symposium, a collaboration between the Magnum Foundation and Parsons that helps authors of nonfiction photography-based projects expand their storytelling beyond images (he worked on a project called Graying of AIDS). Edwards' advocacy work also extends to the criminal justice system; he sits on the board of associates of Equal Justice USA, an organization that works to end the death penalty.
Although he has his hand in many different pots, Edwards sees a common way to address all these social issues: communication.
"How can communication and storytelling work to open the ecosystem to change?" he says. "It's the best way we have of understanding one another and appreciating one another's experiences."
To learn more about the MFA Transdisciplinary Design program, visit www.newschool.edu/parsons/mfa-transdisciplinary-design/.