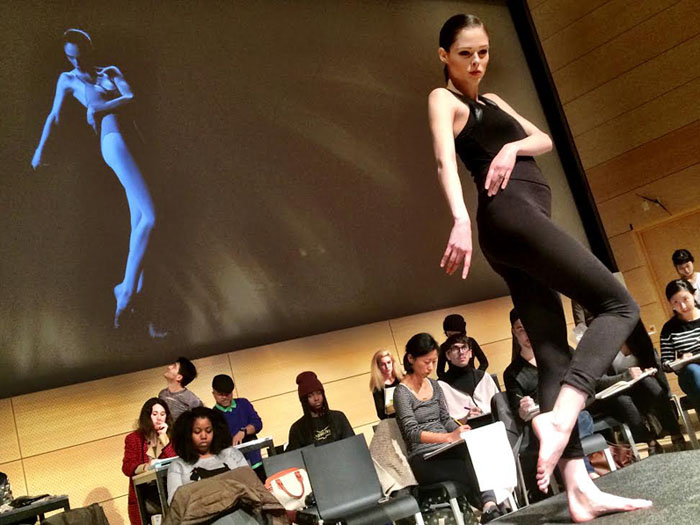 Coco Rocha Strikes A Pose at Live Drawing Event
"Don't just stand there, let's get to it, strike a pose, there's nothing to it."
Try telling Coco Rocha that.
The 26-year-old iconic supermodel and women's activist struck hundreds of poses at The New School on Sunday, celebrating the human form in a live drawing event that coincided with the release of her new book, Study of Pose: 1,000 Poses by Coco Rocha.
Rocha, who was joined by famed photographer Steven Sebring and Simon Collins, the Dean of Parsons The New School for Design, demonstrated many of the poses from her book, holding certain positions for as long as five minutes as she served as the muse for an audience of students and faculty surrounding her on stage at the Tishman Auditorium.
An outspoken advocate for the female form and figure, the pregnant Rocha embraced her baby bump, telling participants, "If you look at me, you'll notice I have this bump—it's supposed to be there. Don't leave it out of your drawings."
Rocha also spoke of the important role of the modeling industry.
"Models bring the clothes to life and the artist's vision to life," she said. "The pose and models are as important as actors are to a director or musicians are to band."
Collins echoed that sentiment, adding, "You never think about the models until you see a poorly modeled fashion show."