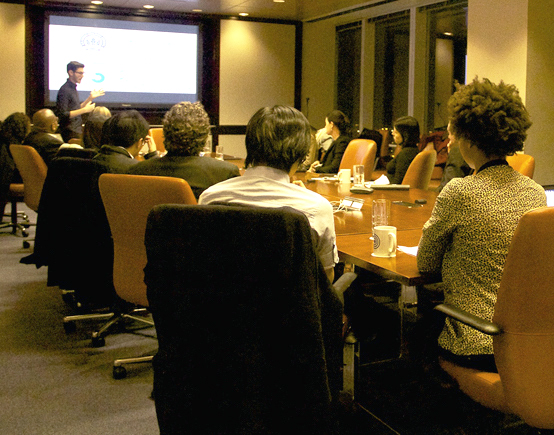 Parsons Students Build a Better Future with Design of Healthy, Sustainable Buildings
On the 45th floor of the Bank of America Building recently, students from Parsons School of Design at The New School pitched their ideas for an early childhood education space built with healthful, non-toxic materials.
At the other end of the table were their "clients"—leaders from Durst Corporation, a family-run real estate company.
Elizabeth Fritz, MFA Interior Design and Lighting Design, made the case for replacing "harmful materials" that are typically used by the construction industry with natural cork flooring, skylights, and wood.
While he was receptive to the proposal, Matthew Washington, manager of special projects at Durst, worried about the costs associated with these "healthier alternatives."
"Any potential client is going to inquire about that," he warned.
Channeling the lessons she had learned in Building Product Ecosystems (BPE)—a semester-long class that teaches students about ways to optimize the health and transparency of our living and working environments—Fritz issued a compelling counterargument: "You can't put a price on a child's health."
"They may be more expensive," Fritz responded, "But the positive health impact of these products far outweighs the cost longterm of using hazardous materials."
Held over the course of the spring semester, BPE is one of the many ways in which The New School is expanding on its mission: to pursue socially engaged design and research through the lens of cross-disciplinary collaboration, design thinking, and real-world engagement. Additionally, students have built affordable, environmentally conscious housing in Washington, D.C., and designed sustainable decorations for the White House.
"At The New School, we know that design can be a force for good: to make our cities healthier places to live, to transform the lives of potential home owners, even to celebrate the holidays," says Alison Mears, Dean of the School of Design Strategies at Parsons and Director of the soon-to-be-launched Healthy Materials Lab.
To understand The New School's commitment to design and advocacy, look no further than BPE. A collaboration between The Durst Organization, The New School, and the City University of New York, the project brings students and faculty together with various stakeholders—designers, contractors, policymakers, and health officials—"to optimize the health and transparency of construction product ecosystems," according to the project's website.
"We're encouraging students to consider the healthfulness of materials as elemental to the way they think about design," said Bill Walsh, executive director of the Healthy Building Network, one of the partners in BPE. "Then, we think about how we can persuade builders and contractors to employ these materials in order to make New York City a safer place to live and work."
The New School's impact on the building industry goes beyond the Big Apple. In Washington, DC, students from Parsons and the Milano School of International Affairs, Management, and Urban Policy partnered with the Stevens Institute and Habitat for Humanity of Washington D.C. to build an affordable, energy-efficient duplex home in the city's Deanwood district. Initially designed as an entry in the U.S. Department of Energy's 2011 Solar Decathlon, a sustainable building competition, Empowerhouse has enjoyed a second life as a real home for local families and a model for sustainable housing.
"When we entered the Solar Decathlon competition, it didn't make much sense to spend all this time and energy designing and building a model house that wasn't going to have a real impact," said Orlando Velez, a former student at Milano who, after working on Empowerhouse, became Habitat DC's director of housing programs and community advocacy. "It's a really robust opportunity to make an impact on a host of environmental issues: green gardening, storm water management, getting tax credits for using solar power, and more."
Across the Ancostia River from Deanwood, New School students brought sustainable designs to the most famous address in the United States. When First Lady Michelle Obama made her opening remarks at the first-ever White House Fashion Education Workshop in October, she did so in front of a striking installation built by Parsons students. The product of a rapid two-week exploration led by Mears, Jonsara Ruth, director of the MFA Interior Design program at Parsons, and Helen Quinn, a faculty member at the School of Constructed Environments, the sustainable and celebratory installation comprised 600 discarded book pages and covers, steel, local flowers, and ferns.
"It was so exciting, so extraordinary, so unbelievably chic," said Laura Alexandra Suppan, MFA Interior Design, a student who contributed to the project. "We worked in the East Room. We worked in the East Room! Nothing more to say there. It was unbelievable!"
Laura Dowling, the White House florist, was so impressed by the students' work that she asked them to design holiday decorations for the White House. Students created five oversized gold and silver book ornaments that hold a series of drawings of Bo and Sunny, the White House dogs.
New School students and faculty have worked tirelessly on myriad projects, but they haven't run out of creative fuel. The university is now looking ahead to many new initiatives that, as Mears said, will continue to "disrupt existing systems" and transform the way we look at design.
"When it comes to design, we never do anything that is purely pretty," Mears added. "There is intrinsic value—whether it is to create energy-efficient, affordable housing, or to create decorations for the holidays—in everything we do."