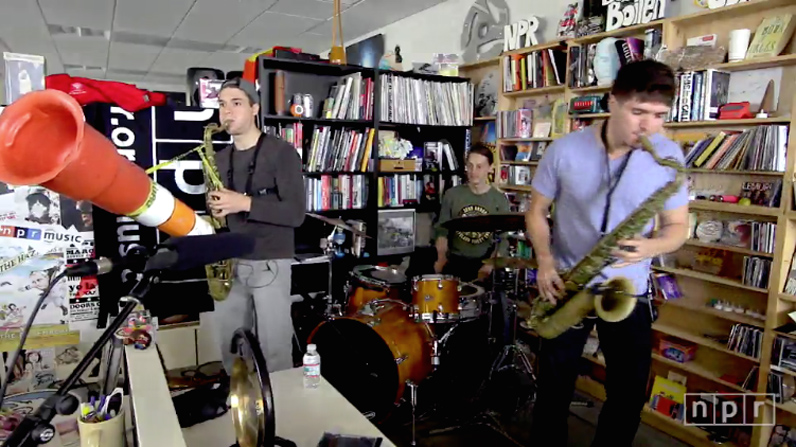 The New School in The News: The Top 10 Headlines of 2014
The New School made plenty of headlines in 2014, with news of university events, academic programs and faculty members (and their achievements) landing in such major publications as The New York Times, The Wall Street Journal and NPR. Take a look at our top 10 favorite headlines from the past year:
New School Seeks Unity With Manhattan Hub
By Mike Vilensky
Wall Street Journal, February 20
"Can a flashy $352 million building transform the New School from an unwieldy constellation of colleges into a unified institution?" asks Wall Street Journal reporter Mike Vilensky. In his report on the grand opening of the University Center—a 375,000-square-foot facility "complete with classrooms, studios, dining areas, a library, performance space, dorms and plenty of space to just hang out"–paints a picture of an institution that is forging a more cohesive identity.
Mark Ruffalo Joins The New School for Drama as a 2014 Artist-in-Residence
By Bethany Rickwald
TheaterMania, March 5
Actor and director Mark Ruffalo signed on as the 2014 Artist-in-Residence at The New School, and TheatreMania was one of the first publications to announce the big news. "With a career that stretches from New York's experimental downtown theater scene to Hollywood blockbusters, Mark will give our students unique perspective on the role of citizen artist, which is in the best tradition of The New School," said director of The New School for Drama Pippin Parker.
Bruce Springsteen: Born to Philosophize? The Boss Studies Socrates
By Anna Russel
The Wall Street Journal, July 1
James E. Miller, Professor and Chair of Liberal Studies at the New School for Social Research and Special Advisor to the Provost, saw a big bump in sales for his book, Examined Lives: From Socrates to Nietzsche, after none other than The Boss—Bruce Springsteen, of course—was photographed reading it. "We know the Boss has a hungry heart," reporter Anna Russel writes, but who knew also has "a philosopher's soul"?
Tiny Desk Concert: Moon Hooch
By Bob Boilen
National Public Radio, July 7
Bob Boilen has seen nearly 400 Tiny Desk Concerts—they're held at his desk, after all. From Adele to Gogol Bordello to Phoenix to Alt-J, he's witnessed plenty of "magic moments." But few compare to a performance by Moon Hooch, a band comprised of graduates from The New School for Jazz. Gushed Boilen: "Moon Hooch blew me away with just two saxes and a drummer."
Ferguson's Freedom Summer
By Jay Caspian Kang
The New Yorker, August 19
In Jay Caspian Kang's report, Jeff Smith, a former Missouri State Senator and Assistant Professor of Politics and Advocacy at Milano School of International Affairs, Management, and Urban Policy, reflects on his political experience and offers this advice to white St. Louisians during the Ferguson protests: "They think I'm joking, but the answer is obvious: Join the protests en masse."
Ideo Helps Develop New Designed-Minded Journalism Degree
By Shaunacy Ferro
Fast Co. Design, September 26
"Journalism + Design, the latest program at the The New School in New York City is teaching journalists how to think like designers, and designers how to think like journalists," writes Shaunacy Ferro. "With a curriculum co-developed by Ideo, the undergraduate program kicked off this semester teaching students how to harness design and design thinking in news."
Book Review: 'The Marquis" by Laura Auricchio
By Frederick Brown
The Wall Street Journal, October 10
Reviewing The Marquis: Lafayette Reconsidered by Laura Auricchio, Dean of School of Undergraduate Studies and Associate Dean of New School for Public Engagement, Frederick Brown writes, "Laura Auricchio deals admirably with Marquis de Lafayette's trans-Atlantic career in her well-written, well-furnished biography…she gives us an excellent account of his causes and enthusiasms during the postwar period, from the abolition of slavery to Franz Mesmer 's doctrine of 'animal magnetism.'"
Office Hours
By Rebecca Mead
The New Yorker, October 27
Catching up with bell hooks, writer and social critic, and Laverne Cox, transgender rights advocate and co-star of Orange Is The New Black, on the evening of their conversation at The New School, Rebecca Mead captures a few of these back-stage gems: "'We could talk about my sex life, which is nonexistent,' Hooks offered. Someone suggested that Hooks try Tinder. Hooks, who does not text or use e-mail, demurred. 'Why aren't you online?' Cox asked. 'Clutter,' Hooks said. 'Life is cluttered enough already.'"
Here's a startup idea: take opera, add beer, put it in Brooklyn
By Daniel Roberts
Fortune Magazine, November 11
"As larger, more hallowed opera institutions have struggled to stay afloat," writes Daniel Robert, "Small, nimble opera companies have cropped up to replace them." One such company is Loft Opera, a business started by New School graduate Brianna Maury. Swap the Met's opulent digs with a laidback Brooklyn loft complete with folding chairs, beer and wine and you have a recipe for challenging the status quo.
Empowerhouse incorporates latest energy efficient amenities
By Holly Morris
MyFoxDC, November 20
This year, Sheila Johnson, New School trustee and chair of Parsons School of Design's board of governors, and Joel Towers, executive dean of Parsons School of Design, were honored for their leadership on Empowerhouse, an affordable, energy-efficient home built by New School students for low-income families in Washington, D.C. That same day, MyFoxDC caught up with Towers and Orlando Velez, a former New School student who worked on the project, for a four-part segment on the game-changing project.