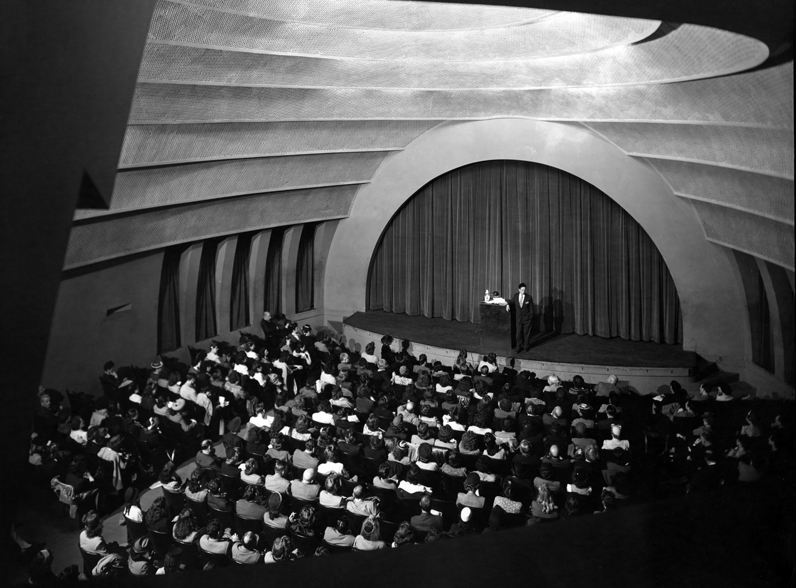 Your Guide to Spring 2015 Events at The New School
As the spring semester gets underway, students and faculty are naturally focusing on what's happening inside the classroom.
But there's plenty going on outside the classroom, too. This semester, The New School's schedule is jam-packed with extracurricular activities and events—from a discussion about a wildly popular podcast to a conference with the world's most controversial artist—offering a glimpse of the university's dynamic and diverse learning environment.
A selection of upcoming events appears below; you can see the full schedule at events.newschool.edu.

Prison Obscura
Opening reception: February 5, 6:30-8:30 pm
On view through April 17, 2015
Sheila C. Johnson Design Center Anna-Maria and Stephen Kellen Gallery, 66 Fifth Avenue
Curated by Prison Photography editor Pete Brook, Prison Obscura presents rarely seen vernacular, surveillance, evidentiary, and prisoner-made photographs shedding light on the prison industrial complex. This traveling exhibition is made possible with the support of the John B. Hurford '60 Center for the Arts and Humanities and Cantor Fitzgerald Gallery at Haverford College, Haverford, PA.

Serial and The Podcast Explosion
Thursday, February 5, 8:00–10:00 p.m.
The Auditorium at 66 West 12th Street
Sarah Koenig, host and producer of the widely acclaimed Serial radio program, will be on hand for this panel discussion on the creative explosion taking place in podcasting and what it means for the industry. New York Times columnist David Carr moderates the discussion, which also features Alex Blumberg, creator of the podcast StartUp, former producer of This American Life, and founder of NPR's Planet Money; and Benjamen Walker, host of the podcast Theory of Everything and one of the founding members of Radiotopia.

The Fear of Art: 32nd Social Research Conference
Thursday, February 12, 12:00–7:30 p.m. and Friday, February 13, 10:30 a.m.–6:00 p.m.
The Auditorium at 66 West 12th Street
Chinese artist and dissident Ai Weiwei gives the keynote address (via video) at this two-day conference featuring critics, museum directors, and scholars in a discussion of the history of art censorship and the role of artists as collaborators and rebels. "Artists continue to be imprisoned and exiled, and art continues to be banned and destroyed, all of which gives evidence of the power of images to unsettle, to speak truth to power," says Arien Mack, director of the Center for Public Scholarship.

A Midsummer Night's Dream by William Shakespeare
Saturday, February 21, 3:00 p.m.
The Theater at The New School for Drama, 151 Bank Street
We all know the story: Four squabbling lovers flee Athens to an enchanted wood. Magic comes into play. Chaos and hilarity ensue. See The New School for Drama perform a classic that never gets old. Directed by Casey Biggs and choreographed by Shannon Stowe.

Looking at the University: Screening of Ivory Tower and Discussion with Director, Andrew Rossi
Thursday, February 26, 7:00–10:00 p.m.
John L. Tishman Auditorium, University Center, 63 Fifth Avenue
Eugene Lang College launches a series of discussions on the state of higher education with a screening of Ivory Tower, a documentary questioning the cost—and value—of higher education in the United States. Andrew Rossi, the film's director, and Noah Isenberg, chair of the Culture and Media Department, host a post-screening discussion.

Dorothy H. Hirshon Residence: Panel on Collaboration in Interactives Cinema with Toni Dove
Friday, February 27, 7:00–9:00 p.m.
Theresa Lang Community and Student Center, Arnhold Hall, 55 West 13th Street, room I202
Toni Dove, interactive media maker and Hirshon artist-in-residence at The New School, speaks with collaborators, past, present, and future, about the dynamics involved in creating experimental media installations and performances. Dove's latest project, Lucid Possession, is a live cinema performance mixed and animated in real time in which cutting-edge motion-sensing technologies are used to create complex layers of media.

National Book Critics Circle Reading 2015
Wednesday, March 11, 6:00 p.m.
The Auditorium at 66 West 12th Street
Every year, finalists in the National Book Critics Circle read from their work at an event co-sponsored by the School of Writing. The NBCC gives out awards for the best books published in English in the categories of fiction, general nonfiction, biography, autobiography, poetry, and criticism.
Silent Movie Night
Monday, April 27, 2015 at 7:00 pm
63 Fifth Avenue, Room U100
Under the direction of Charles Neidich, this film screening will feature contemporary music performed by ensembles from Mannes College The New School for Music and The New School for Jazz and Contemporary Music to the silent films Sherlock Jr. (Buster Keaton) and The Immigrant (Charlie Chaplin); the composer Craig Marks will give a pre-concert talk.
Sanctions and Divestment: Economic Weapons for Political and Social Change
Friday, May 1, 10:30 a.m.–4:15 p.m
The Auditorium at 66 West 12th Street
Presented by The Center for Public Scholarship, this conference explores the ways sanctions and divestments have been used to influence the policies of governments on issues like nuclear disarmament, climate change, and human rights.

Mannes College and Parsons School of Design Spring Opera: Jonathan Dove's Flight
Saturday, May 9, 7:30 pm and Sunday, May 10, 1:30 pm
Gerald W. Lynch Theater, John Jay College, 524 West 59th Street
Following an outstanding performance in last year's New York City debut of Daniel Catán's Il Postino, musicians from the Mannes Opera and Orchestra once again team up with designers from Parsons School of Design to produce a fully-staged performance of Flight, an opera by Jonathan Dove. This marks the second year of the collaboration between the two schools.