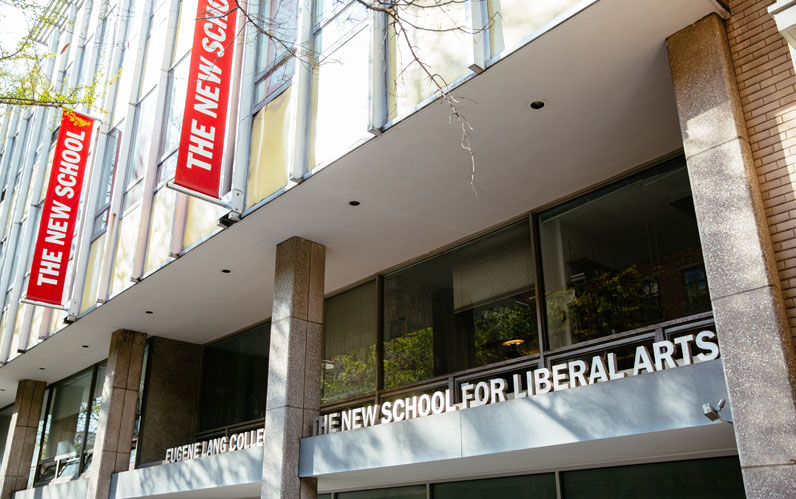 KEEP CALM: We're Only 30
They've been at it for months now—the artists documenting the academic history of Eugene Lang College and The New School. Stretched out on makeshift hammocks, these artists are meticulously etching previous course titles onto the underside of the Fifth Avenue staircase in the University Center. Titles include "The Price of Power: Security in the Atomic Age," "Chinese Shadow Theater," and "Modern Woman: Her Dilemma and Potentialities."
And while The New School is just shy of 100 one hundred years old, Lang, its offbeat offspring, is just now at the precipice of adulthood.
"We really have to think of an institution's years the way we think of dog years," says Lang dean Stephanie Browner. "Institution years are different from human years." Using this analysis, then, Browner views Lang College as an 18-year-old ("someone who can vote") or maybe 21 ("That's a good year").
Back in human years, though, 2015 marks Lang's 30th birthday.
"We're no longer a baby," says Browner. "At 30, we've laid down our DNA and established our core identity." While there are downsides to being a youthful institution ("Youth doesn't exactly connote legacy," she says), there are also distinct advantages. For one, the institution isn't yet bound by tradition, so it remains flexible and adaptive to change—a definite plus in the current global climate. For another, grit and optimism often come with being young. There's the determination to "be somebody," complete with the sunny disposition of someone not yet burdened with world-weariness.
At 30, Lang has also set down some roots and defined its path. The type of students and faculty the college attracts, for instance, is remarkably consistent. Browner describes the classic applicant as "the 19-year-old who looks at the world and says, 'That's wrong and I want to fix it.'" The professors, too, are perhaps more invested in critical inquiry for its own sake than their peers at other institutions. "There's a drive among the faculty to think about ideas and their relevance to the world today, outside of their academic discipline and publication demands," says Browner. "It's not enough to be thoughtful; it's important to think well about justice and fairness."
Call it "the Lang way," but a predilection for social engagement is evident from the discussions heard in the small seminar classes and the posters that line the communal café space. Browner labels this "decolonized thinking," but doesn't claim the term. She muses that perhaps it was Malcolm X who first used it. bell hooks, a sort of unofficial intellectual mascot for the school, frequently peppers the phrase in her writing.
"It goes one step beyond critical thinking," says Browner. By the time people reach adulthood, their minds have been sensitized to certain viewpoints and historical understandings of culture. To truly "think well," Browner says, we must shed preconceived notions. Decolonized thinking is part of the DNA Lang has fully claimed.
Looking forward, Browner anticipates that as Lang matures, it will continue to play with experiential and exploratory forms of learning. She cites innovative collaborations, like that of Global Citizen Year (a program in which students spend their freshman year immersed in a culture and language abroad), as seeds of further experimentation in the traditional academy. For now, though, Browner is embracing Lang's immaturity. After all, you only get to be young once.
To celebrate the 30th anniversary of Lang College, the New_S is launching a weekly post beginning Thursday, January 29. Stay tuned for #Lang30 alumni stories, historical facts, and random musings from #NerdyLang.