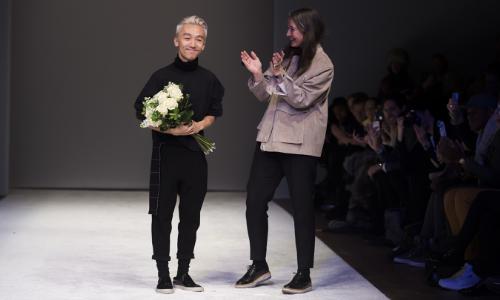 Parsons Grad Ximon Lee Wins H&M Design Award
The Parsons School of Design community knew big things were in store for Ximon Lee when he won the school's Menswear Designer of the Year award in 2014.
The 24-year-old designer has lived up to expectations: Recently, he won the H&M Design Award, making him the first-ever U.S. designer and the first menswear designer to secure the honor. Lee takes home €50,000 and the chance to develop pieces from his collection to be sold at select H&M stores and online later this month.
"I was stunned when they announced I was the winner," Lee said in a statement. "The H&M Design Award means so much to me at the beginning of my career—I cannot imagine how I'd start my own label without it. My collection was designed as menswear but I'm excited to see it also worn by women."
Luella Bartley, design director of Marc by Marc Jacobs and member of the jury that decided the recipient of the award, praised Lee as a "highly accomplished designer."
"He had everything; his research was beautiful, the fabric development was really skillful and his design was good," Bartley said in a statement. She was joined on the panel by singer/songwriter Lily Allen, H&M creative director Paula Goldstein di Principe, British Vogue fashion director Lucinda Chambers, visual journalist Tommy Ton; fashion critic Angelo Flaccavento, MyTheres.com buying director Justin O'Shea, H&M head of design Ann-Sofie Johansson and H&M creative advisor Margareta van den Bosch.
Originally from Hong Kong but now based in New York City, Lee creates layers of organic and synthetic textures, including materials such as plastic and cardboard, to build exaggerated forms that move outward from the body. For his winning collection, the Parsons alum took inspiration from the documentary, Children of Leningradsky, a 2005 Polish documentary about a community of homeless children living in the Leningradsky railway station in Moscow.
To see Lee accept the award, visit designaward.hm.com. To read about Lee in Interview, visit interviewmagazine.com/fashion/hm-design-award-2015/#_.