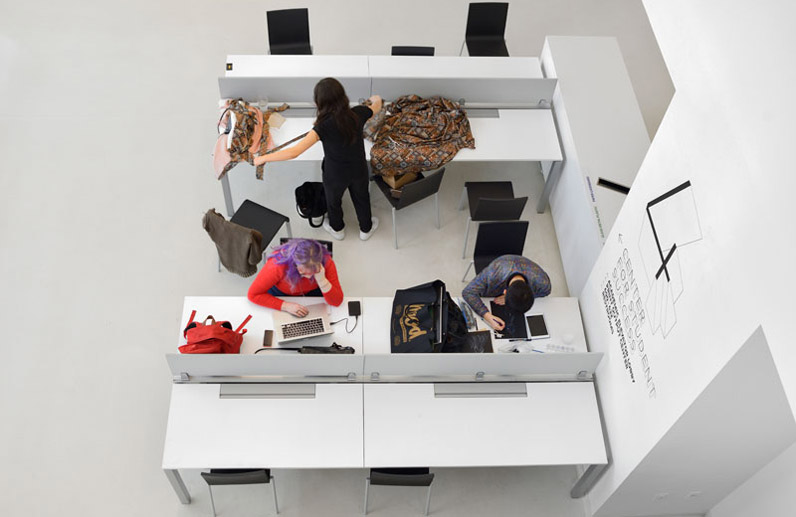 UC Opening 24/7
It's 1:45, you're right in the middle of an important project, and you hear these dreaded words: "Fifteen minutes to close!"
For students working late night in the University Center, that means it's time to pack up your things and get out.
But soon, burning the midnight oil will become a lot easier.
Beginning Monday, January 26, the UC will open 24 hours daily, offering expanded opportunities for students, faculty, and staff to collaborate, practice, and study.
During these extended hours, the New School community will have access to practice rooms, studios, and study space, including the sixth-floor library, where support staff will offer laptop and material checkout. A printing station is located on the fifth floor, and to-go food options are available near the cafeteria space on the second floor.
Beginning in late March, when construction is completed, all students and faculty will have 24-hour access to the Event Café space and computer labs on the lower level of the building. Until then, these computer labs will close between 11:00 p.m. and 7:00 a.m. Additionally, certain spaces will close on a rotational basis for cleaning and maintenance.
Check out these guidelines relating to the UC's 24-hour schedule:
Students, faculty, and staff must scan their New School ID cards when entering the University Center.
During overnight hours, starting at 11:00 p.m., only New School–credentialed individuals are allowed access to the University Center. An exception will be made for students of Consortium-approved schools, who will be granted access to the library with proper ID.
All students, faculty, and staff should secure their personal property at all times. Do not leave it unattended.
If you need assistance, notify Campus Safety personnel, who will be on-site in the University Center.