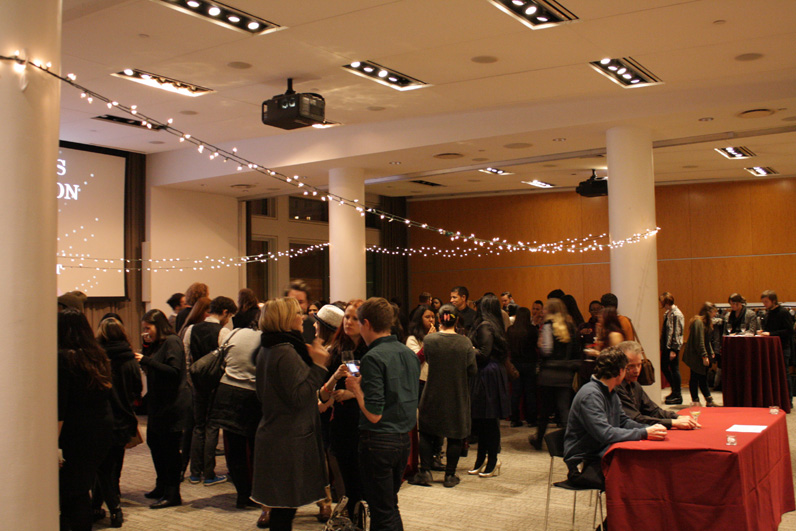 Graduating Students Celebrate 100 Nights to Graduation
The countdown to this year's graduation ceremony has begun! On Wednesday, February 11, 2015, exactly 100 days before The New School's 2015 commencement, graduating students gathered at the Fifth Annual 100 Nights Celebration: Countdown to Commencement to celebrate how far they've come and to savor the short time left in their current academic endeavors.
Attendees mixed and mingled in the Theresa Lang Student and Community Center, where a lively trio of jazz musicians from The New School for Jazz played throughout the evening. Guests included graduating students, as well as their significant others, parents, relatives, siblings, and friends.
Several alumni served as guest speakers, including Amy Chasan (NSPE '15) and Morris Yankell (Milano, '86). Chasan was the 2013 New Challenge winner, and is now the founder of Sweet Generation, a New York City–based bakery that supports art education by donating a portion of sales to nonprofit arts organizations. Yankell is the founder and chief consulting officer of Metropolitan Systems Consulting, a boutique human resources and technology firm headquartered in New Jersey. In their speeches, Chasan and Yankell raised toasts to the graduating students and highlighted the importance of staying connected as New School alums.
Now, the countdown continues until Friday, May 22, when the 2015 New School Commencement will take place at the Javits Center.
The 100 Nights Celebration was hosted by Student Development and Activities, with support from Alumni Relations.