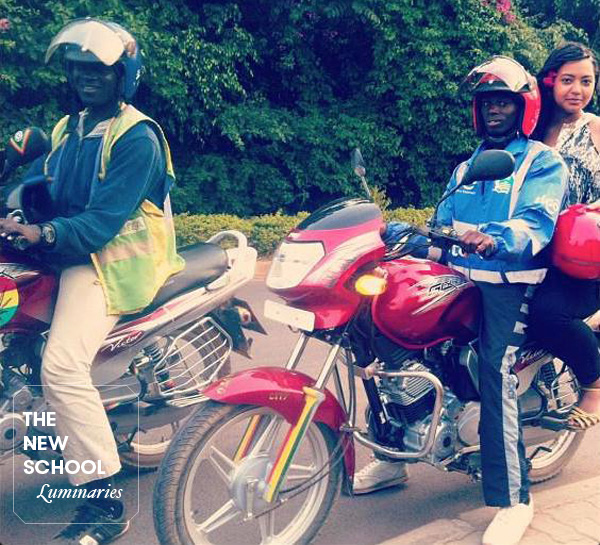 Globetrotting Lang Student Was Born for Humanitarian Work
Growing up in Grand Bassam, an island town nestled off the coast of Ivory Coast, Aissata Koralik-Toure observed firsthand the social and economic injustice that exists in many developing countries
The issue came into stark view in the run up to Ivory Coast's first civil war. During that time, people in Koralik-Toure's community struggled as ethnic and political violence broke out around the country.
"I saw how their problems weren't being voiced in the West," says Koralik-Toure, who was uprooted from her home and fled Ivory Coast with her mother. "It really influenced me at every stage."
A major in Global Studies at The New School's Eugene Lang College, she has made it her mission to help marginalized communities achieve social and economic empowerment. To that end, she has pursued development work and participated in humanitarian-driven academic programs in Cambodia, South Africa and her home community in Ivory Coast.
"There are problems all over the world that go unseen, but they shouldn't be ignored," she says. "As corny as it might sound, I believe in a global community."
Born in London, Koralik-Toure moved to Ivory Coast with her mother, an international photographer born in the United States, to live with her father, a restaurateur and Ivorian native. She lived in the country until 1999, fleeing to the United States following a military coup that led an outbreak of political and ethnic violence. But from the moment she set foot on American soil, she knew she was bound to go abroad again.
Since enrolling at Lang, a college dedicated to social justice, Koralik-Toure has volunteered as an English teacher at the Bova Village Orphanage in Cambodia and as a teacher's aide at the International University of Grand Bassam in the Ivory Coast. She has also participated in three study abroad programs: Death and Rebirth: Genocide and Reconstruction in Rwanda, Security and Governance at the University of Amsterdam in the Netherlands, and the Transregional Center for Democratic Studies in Johannesburg, South Africa.
For Koralik-Toure, traveling abroad has been crucial to her understanding not only of the world but also the struggles of other people.
"To understand relativity, and the others' experience, you must go abroad," she said. "It's harder to understand where you're from if you don't experience it relative to another place. One cannot comprehend the complexities of the world, micro or macro, without standing away from home."
She adds, "Traveling also gives you a context for what you're learning about in school; it provides a real-life experience that's applicable to your studies."
Those studies include the history and sociology of genocide and issues surrounding female genital mutilation. Koralik-Toure hopes to work for an NGO such as the United Nations High Commissioner for Refugees or Doctors Without Borders, an organization "I have been in love with since I was 12."
Whatever organization she decides to work for, Koralik-Toure wants to focus on local solutions to local problems. As she points out, Western intervention has left a dark shadow over Ivory Coast: A system of hierarchy and oppression remains from the colonial era; in the present day, Western-imposed solutions often reflect a failure to appreciate the country's problems and do not address them appropriately. She prefers to address Ivorian issues from the perspective of Ivorian people.
"I have no right to go back and say, 'I know what you can do to make this better,'" she says. "I don't think I, or anyone else from the West, is the voice of reason, but I do believe in grassroots programs in shaping a country to be a better place."